Italy fears about Spain; Madrid says: 'total nonsense to make comparisons with Greece"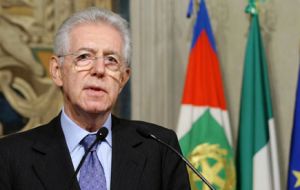 Italian Prime Minister Mario Monti expressed concern about Spain's public finances and said it would not take much to reignite the Euro zone debt crisis and revive the risk of it spreading to Italy.
Speaking at a conference by Lake Como where he was discussing the Italian government's new labour reforms, Monti praised Spain's efforts to reform its jobs market but said it had fallen behind on budget control.
Spain shocked markets last month when it said it had missed its 2011 budget deficit target and a few days later set itself a softer goal for 2012.
"It (Spain) certainly made profound reform of the labour market but it did not pay the same attention to public finances," Monti said.
"This is causing us big concern because their yields are rising and it wouldn't take much to recreate trends that could spread to us through contagion," Monti said.
He added that any fresh eruption of the Euro zone debt crisis could cancel out the progress made in Italy and "take us back months."
Since Spain revealed its budget slippage, investors have been ditching Spanish bonds for Italian, in a sign that the epicentre of the crisis is shifting.
However Economy minister Luis de Guindos said that Spain is fully committed to meeting its deficit targets and any comparisons to Greece is "total nonsense".
"We are fully committed with the targets," de Guindos told reporters in Singapore while on a trip to Asia, referring to Spain's commitment to reduce its budget deficit to 5.3% of GDP this year and 3% next year.
De Guindos added that any comparisons with Greece were "total nonsense" as the new Spanish government had, in its three months in office, slashed costs and passed key labour market reforms that were crucial to creating jobs and helping firms become more productive.
Spain, one of the euro zone laggards alongside Portugal, Italy, Ireland and Greece, had an unemployment rate of 22.9% at the end of last year. The number of people without work rose by 2.4 percentage points in February from January, the Spanish government said earlier this month.