Legal actions against Argentine officers who tortured conscripts during Malvinas war
Monday, March 26th 2012 - 08:15 UTC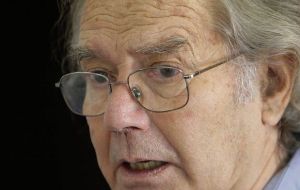 The Buenos Aires Provincial Memory Commission, CMP, will present on Monday an appeal to the Argentine Supreme Court demanding that tortures and other ill treatments suffered by the Argentine conscripts during the Malvinas war by their own officers be considered 'crimes against humanity' and therefore imprescriptible.
"The question of the Malvinas war cannot be disassociated from the regime that produced it: the military dictatorship (1976/1983). Nor its illegal methods in the continent from those applied in the Islands", said the Commission.
The CMP representatives including Nobel Peace laureate Adolfo Perez Esquivel are scheduled to attend at midday Monday the Tribunals Palace in Buenos Aires to make an Amicus Curiae (Friends of the Court) presentation in the case of human rights violations committed by Argentine officers during the Malvinas war
The initiative supports a recent request from the Criminal Chamber Prosecutor Javier De Luca who asked the Argentine Supreme Court to rule if tortures and other abuses denounced by Argentine soldiers against officers during the war must be considered crimes against humanity of war crimes.
The presentation includes almost a hundred cases involving Argentine Armed Forces officers, but the investigation was paralyzed once the Annulment Chamber argued that the crimes had prescribed.
Among the claims are cases of staking soldiers to the ground, deaths caused because of lack of food and even killings.
Last week President Cristina Fernandez received the 'Rattenbach Report" which analyzes the political and military responsibilities of the Malvinas war. Originally elaborated after the conflict by a commission headed by General Benjamin Rattenbach, it was considered too crude and damning towards the commanding officers and then military caretaker president Reynaldo Bignone impeded its release.