Argentine economy expands 5.5% in January but activity index is down 0.4% over December
Tuesday, March 27th 2012 - 03:31 UTC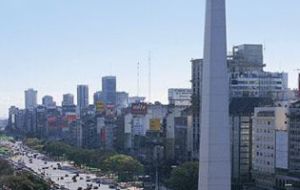 The Argentine economy grew 5.5% in January compared to the same month last year, according to a release from the Indec national statistics bureau. Official data also reported that the monthly economic activity index (EMAE) fell 0.4% against the previous month.
Since January is peak summer vacation season in Argentina activity in many industries slows considerably as workers swap factories and construction sites for the beach, though tourism-related services see a big increase in activity as Argentines and foreign visitors flock to the country's top summer destinations.
The result was slightly lower than the 5.8% median estimate of more than 50 banks, economic research firms and universities surveyed by the Central Bank of Argentina.
However Emae is thought to overstate economic growth due to the widespread belief among economists that Indec under reports inflation by a significant margin. Most economists think annual inflation is between 20% and 25%, while Indec's latest estimate was 9.7%.
Research firm Consultora Ledesma said in a report Monday that its own gauge of monthly economic activity rose 2.8% on the year in January, and was down 0.5% from December.
"The slowdown was pronounced both in the goods producing sector and services," Consultora Ledesma economists wrote.
After expanding 9.2% in 2010, Argentina's economy grew 8.9% in 2011 thanks to a surge in government spending in the run-up to October's elections, lax monetary policy and as consumers splurged on durable goods like cars.
The economy is expected to post good though less impressive--growth this year. Although there are storm clouds in several fronts: top trading partner Brazil, cuts to generous energy subsidies, and government restrictions on imports and the foreign-exchange market which are expected to drag on growth.