Cristina Fernandez to lead main Malvinas war commemoration from Ushuaia
Tuesday, March 27th 2012 - 11:25 UTC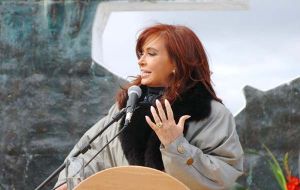 Argentine president Cristina Fernandez will head next 2 April the main ceremony remembering the 30th anniversary of the Malvinas war when Argentine forces invaded the Falklands and held them for 74 days until ousted by a British Task Force
The commemoration takes place in the midst of renewed tension between Argentina and the UK over the Falklands/Malvinas Islands sovereignty.
On April 2, President Cristina Fernandez, the ministerial cabinet, members of Congress, governors and former Malvinas veterans will hold the main ceremony in the city of Ushuaia which under the 1994 Argentine constitution has jurisdiction over the Malvinas and other South Atlantic islands.
Unasur presidents have been invited to the ceremony but the Argentine Foreign Affairs ministry has not confirmed any attendance so far.
Cristina Fernandez is scheduled to read a message on national television to all of Argentina at the foot of the Monument to the Fallen in the Malvinas war and again will accuse the UK of not complying with UN resolutions calling for a bilateral dialogue to find a peaceful solution to the sovereignty dispute.
The president is also expected to again accuse the UK for its anachronistic colonial scheme and of exploiting natural resources belonging to Argentina and which stand 12.000 kilometres away from the UK.
Other activities in Ushuaia include the inauguration of a cenotaph with an eternal flame and a memorial wall with the names of the 649 Argentine combatants that lost their lives during the South Atlantic conflict.
The official acts also include joint vigils the night of April first in the cities of Ushuaia and Rio Gallegos with the participation of national and provincial officials. Both cities were involved as military bases in the Malvinas war which started when the Argentine forces invaded in 2 April 1982 the Islands.
Three decades after a humiliating defeat which cost hundreds of lives mostly of Argentine conscripts, numerous commemorations are programmed throughout the whole of Argentina.