The Summit of the Americas will discuss the Falklands/Malvinas issue
Tuesday, March 27th 2012 - 02:11 UTC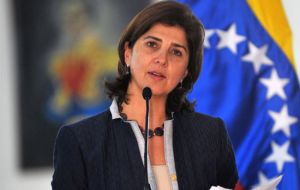 The UK/Argentina Falklands/Malvinas dispute is among the short list of topics to be discussed at the coming VI Summit of the Americas, announced on Monday Colombian Foreign Affairs minister Maria Angela Holguin.
During a meeting with foreign correspondents Ms Holguin confirmed that the summit which takes place April 13/15 in Cartagena de Indias, Colombia and to which have been invited the leaders of the region's 34 countries, will accept the petition from Ecuador to debate the South Atlantic Islands dispute currently under UK sovereignty.
However any declaration or statement on the issue "won't go further than what has been said in the framework of the Organization of American States, OAS".
Holguin said that the 34 leaders or their representatives will support "Argentina's sovereignty pretension over the Malvinas". Furthermore the leaders in Cartagena will call for a dialogue on the issue "and prop UK to accept and sit to discuss".
The Colombian host said that some countries such is the case of Ecuador won't let the opportunity by and will speak extensively about the Malvinas, "even when there has been no forma request from Argentina".
Any petition on the Malvinas will most certainly make an issue, unanimous and that is calling to avoid the military presence in the South Atlantic, added the Colombian diplomat.
US president Barack Obama has confirmed his presence as has Canadian Prime Minister Stephen Harper, which can not be expected to support the Argentine sovereignty claim over the Falklands, among other things because Ottawa's head of state is Queen Elizabeth II.
The government of President Cristina Fernandez has been involved in a diplomatic offensive to collect support for Argentina's claim over the Falklands/Malvinas ahead of the 2 April 30th anniversary of the Argentine invasion of the Islands in 1982.