Falklands open to UN referendum to decide whether Islanders want to remain British
Thursday, March 29th 2012 - 04:31 UTC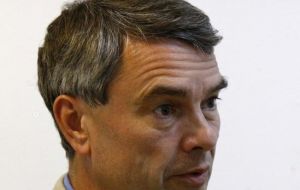 "The Falklands are British, we have all the rights over the Islands plus the Islanders want to be British" said Governor Nigel Haywood who did not discard a UN sponsored referendum so that Islanders can decide on their future.
On the verge of the 30th anniversary of the South Atlantic conflict, Governor Haywood told reporters from a French news agency that negotiating with Argentina "makes no sense as long as Buenos Aires keeps denying the Islanders right of self-determination."
Haywood emphasized that "Argentina is constantly defying the Islanders right of self-determination, hence negotiations are totally pointless."
Furthermore, the British official said that "the sovereignty of the Islands cannot be negotiated if they keep skipping the Islanders' opinion disobeying the United Nations' charter on regards people's right of self-determination."
Haywood also unveiled that a referendum to see whether Islanders want to remain British or not could be conducted among Islanders in case the UN ask them to do so, "so we can solve the issue once and for all".
If that was to be the case, under UN sponsorship, "Argentina could come over and distribute pamphlets and be part of an informative campaign".
Likewise all those measures implemented by Argentina to make life of the Falkland Islands more difficult such as threats to oil companies operating in the Islands or questioning the only air link with the continent through Chile, "are clearly counterproductive because they have only strengthened the determination of the Islands population to be British".
When asked about the UK and the Falklands growing isolation in the world scenario, most of which calling for UK/Argentine negotiations on the sovereignty of the Islands, Governor Haywood said that "the world would prefer Argentina to negotiate instead of invading again, which is not the same as saying that they support the Argentine position".
Haywood said that "Argentina wants to take over a territory skipping the wishes of the local population, and then they feel surprised because PM David Cameron claims they are 'colonialists'. What is to be a colonialist if not annexing another territory against the wishes and self determination of its people?"
"Argentina says this is part of Argentina: does it look like a part of Argentina? Does it look, as was said recently by an Argentine ambassador and a minister that the Falklands population are hostage of the military? I don't think so, it doesn't look like it", concluded the Falklands governor.
The UK will always respect and support the Islanders right to self determination from the permanent Argentine claims.