For Uruguay "there is not blockade of Malvinas by any country of the continent"
Friday, March 30th 2012 - 07:54 UTC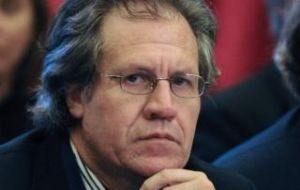 Uruguay reiterated its full and traditional support for Argentina's sovereignty claims over the Falklands/Malvinas Islands, but at the same time underlined that "there is no blockade to the inhabitants of the Malvinas Islands by any country of the continent", and clearly differentiated the Cuban and Malvinas blockades.
The official five-point communiqué was made public late Wednesday following earlier statements from Foreign minister Luis Almagro who said Uruguay does not oppose trade with the Falklands, nor does it support any form of commercial or economic blockade of the Islands.
But then Almagro established a certain parallelism between blockades to the Falklands and to Cuba.
"Supporting any form of blockade would be a violation of the Malvinas inhabitants' human rights and the same as we say regarding Cuba, we repeat in this case" said Almagro.
But point 4 of the release kind of mends the Minister's statement when it states that "Uruguay's opposition to any form of blockade is integral part of Uruguay's foreign policy, and as such an example of this has been the traditional stance with respect to the blockade of Cuba".
Likewise point 5 underlines that "in no case is it remotely acceptable the comparison made by the media, since as has been indicated afore, there is no blockade of the inhabitants of the Malvinas Islands, as does effectively exist a blockade which violates international law regarding Cuba".
The three first points of the release which clarify Almagro's words state 1), that Uruguay reiterates its traditional position of support for Argentina's sovereignty claims over the Malvinas, convinced that peaceful negotiations are the only possible way to settle the dispute between Argentina and the UK.
Point 2), "there's no blockade of the Malvinas Islands inhabitants by any country of the continent", which is an obvious reference not to involve Argentina.
And in Point 3), "as was indicated in the Presidential Office communiqué, 20 December 2011, Uruguay will be no part of any maritime or economic blockade of the Islas Malvinas inhabitants because it would be in violation of their human rights".
Political sources in Montevideo said that following Almagro's statement which allegedly put Malvinas and Cuba at similar level, the Argentines and later the Cubans quietly but strongly expressed their disappointment on the incident.