US lottery jackpot stands as a record 640 million dollars; some recommendations
Friday, March 30th 2012 - 17:16 UTC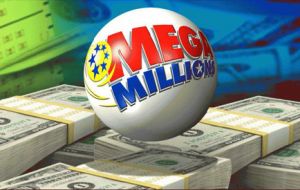 US lottery officials say they are increasing the MegaMillions lottery jackpot to 640 million dollars increasing what was already a world record prize. The previous record jackpot was 390 million dollars in 2007.
Kimberly Starks, a spokeswoman for the Georgia Lottery, said Friday the jackpot had increased, "the jackpot that stood at 540 million before the announcement has now reached 640 million dollars"
A drawing for the fortune is set for late Friday night in Atlanta, Georgia and the odds of winning the jackpot had been set at about 1 in 176 million.
MegaMillions has drawn long lines of lottery players in stores in the 42 states plus Washington, D.C., and the Virgin Islands where tickets are sold.
Richard Lustig who has won lottery grand prizes seven times and has written a book to help other lottery players, "Learn how to increase your chances of winning the lottery" advises those wining a substantial jackpot "to hire a lawyer, hire an accountant, hire a financial advisor and make sure, by the way, that the people you choose to help you are qualified and reputable.
Lustig also warns that allowing the computer to randomly select numbers is not the way to play.
"The individual numbers is not what matters. What does matter is the set of numbers that you choose to play and there's research involved to determine if that set of numbers is a good set of numbers."
Lustig says one ticket may not be enough. He says the chances of winning get better with each ticket you buy. As an example, he says odds are 1 in 175 million with one ticket and one in 17.5 million with ten tickets.
However, Lustig warns against getting "lottery fever." "Don't spend grocery money. Don't spend rent money. Figure out what you can afford and only spend that," he said.