Argentine group questions 'ambiguity' of Malvinas April 2 commemoration
Saturday, March 31st 2012 - 07:23 UTC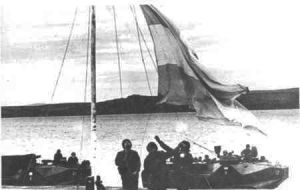 The same group of Argentine intellectuals and free thinkers that last February presented the document "Malvinas, an alternative view" in which among other things they recognize Falkland Islanders right to self determination, released a second text in which they strongly question having chosen April 2 to commemorate the Day of the veterans and the fallen in the Malvinas war.
The document was released a few hours before the beginning of commemorations of the 2 April 1982 Argentine military invasion of the Falklands/Malvinas, which triggered the 74 day conflict concluding in the total unconditional surrender of the Argentine forces and the collapse of the military regime a few months later.
"As Argentines we disapprove that April 2 has been declared the 'Day of the veterans and fallen in the Malvinas war' as if that commemorative ephemeredes could hide, through a national holiday, that it is the Malvinas cause that is being vindicated and is done as if it were a just cause but in bastard hands", points out the new document from the group of distinguished free thinkers among which Beatriz Sarlo, Santiago Kovadloff, Manuel Antín, Daniel Sabsay, Juan José Sebreli, Marcos Aguinis, Jorge Lanata, Graciela Fernández Meijide and former lawmaker Fernando Iglesias who made it known through his twitter.
They argue that choosing April 2 is in effect "a true and clear example of the government's ambiguity referred to the war" since on the one side it execrates the dictatorship, but at the same time established the remembrance of the conflict on that day, as part of a process of justice which implies accepting (for Argentine history) as a positive episode to be rescued, no matter what the intention of the original perpetrators".
The group also question that from "right to left" many argue that "having shed the archipelago with Argentine blood, cultivation of the Malvinas cause becomes mandatory". The document says the fallen should be remembered preserving their memory but at the same evoking a series of tragedies that still haunt Argentina such as human rights violations, the painful collective loss of memory to which the Malvinas cause led, the dangers of armed forces possessed with a spirit of crusaders and the disasters which are the consequence of supporting regimes with concentration of power".
"Choosing the position we adopt regarding the Malvinas cause, is choosing the country we want to have, the Argentina of the future. An Argentina closed and locked into itself in its own victimization and own reasons, or an Argentina open to the world and capable of articulating its interests and aspirations with those of all human beings", adds the text which concludes underlining: "the painful tragedy of 1982, triggered by a dictatorship without scruples and exalted even today by a retrograde nationalism, calls for our responsibility and that of all Argentines"`