Uruguay reveals the existence of an "Argentina 2020: imports substitution" plan
Saturday, March 31st 2012 - 06:17 UTC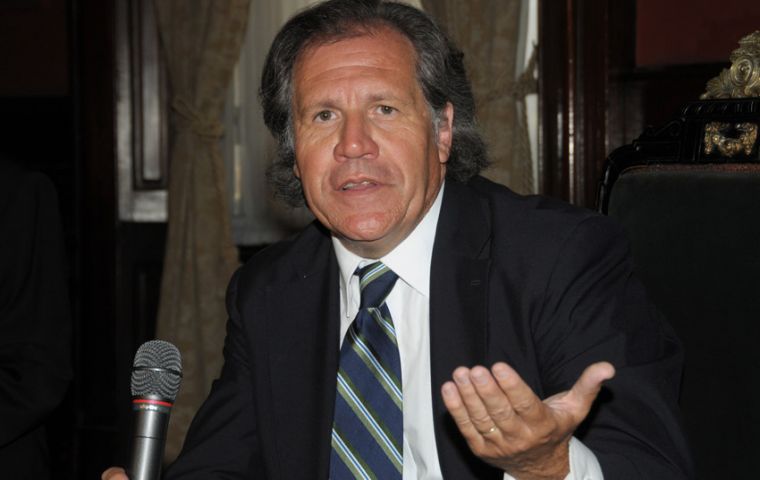 Uruguay' Foreign Affairs Minister Luis Almagro revealed that the government of President Cristina Fernandez is fully involved in the implementation of a plan called "Argentina 2020: substitution of imports" and therefore bilateral trade negotiations that are difficult, will continue on that same path for several years.
Almagro, who is one of the main sponsors of a 'negotiations strategy' with Argentina on trade issues, (which has split the Uruguayan cabinet) told a parliamentary committee that concrete results of the dialogue have been 'partial' and it's hard to anticipate major changes in the short term.
"These measures do not come as a surprise for us nor are we expecting them to pass quickly. The Argentine plan is called "Argentina 2020: substitution of imports" and this title has neither euphemisms nor any side doors anywhere: it's a head-on plan to substitute imports", said Almagro addressing the Uruguayan Lower House Committee of International Affairs earlier this week.
Almagro went on to say that the Uruguayan Executive is not pleased. "The results of the strategy implemented with Argentina have been partial", admitted the head of Uruguay's diplomacy, who nevertheless promised more efforts.
"We have decided to fight for each (imports) licence, for each closed door. We have been able to fight for our rights, for us and for those conferred by Mercosur. Are we happy with the results? No, because every job loss is a pain, and is spite of the fact that bilateral trade globally has increased 17%, there have been sectors that have suffered such as clothing, printing and the food industry", he added.
Meanwhile Uruguayan Vice president Danilo Astori who has always been more critical towards Argentina said that the protectionist policies of President Cristina Fernandez administration always are "a shock", basically because "we have different views".
"We have countries in the region that target an open economy, such as Uruguay, because of strategic necessity and we have countries which, in their right and legitimacy prefer a protectionist focus regarding its international insertion policies, such is the case of Argentina. That generates shocks".
Brazil, China and Argentina in that order are Uruguay's main trade partners, but for manufactured goods Mercosur prevails and Argentina is the market for at least forty different manufacturing sectors in the country.
Since Argentina began implementing and expanding the so called 'non automatic import licences' regime several years ago, and in February this year the anticipated imports' sworn statement, which can discretionally be approved or rejected, the measures have strongly slowed down the flow of trade not only with Uruguay, but with the rest of Mercosur partners and the world.
Precisely this week a group of countries including the US, EU, Japan, Australia among others presented a report to the World Trade Organization exposing Argentina's trade-restrictive measures and procedures and lack of transparency.
Although the report with no formal accusation ends requesting Argentina provide a detailed written explanation of why in its view these measures and practices are consistent with WTO rules, signatory members "reserve their rights to pursue this matter further".
In the case of Uruguay many of those industrial sectors which depend on the Argentine market have been left virtually knock out, and (over two thousand) workers sent to collect unemployment checks.
The Uruguayan government has promised tax breaks, soft credit, labour cost support and other incentives such as helping look for new markets, but until these sectors don't adapt to true international competitiveness conditions, it is hard to see any major changes in the short term.