Argentina has decided to take control of YPF, says pro-government newspaper
Sunday, April 1st 2012 - 08:49 UTC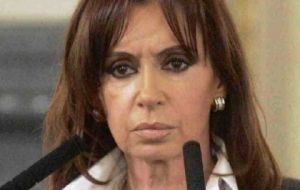 The Argentine government has made the decision to take control of leading energy company YPF and is discussing whether to renationalize it or intervene in its administration, a newspaper reported on Saturday.
YPF, which is controlled by Spain's Repsol, is under intense pressure from the administration of President Cristina Fernandez to boost output to reduce surging fuel imports that are eroding the country's trade surplus.
Pagina 12 newspaper, which is seen as reflecting government thinking, said Cristina Fernandez had made up her mind on the need for state control and that internal debate was now focused on how to go about it.
It gave the possible options as expropriation or state intervention including the purchase of company shares.
To reduce the risk of legal challenges, any such move would be preceded by the passing of a law declaring oil and natural gas production as matters of public interest, the newspaper said.
"There's no going backward on this" it quoted unnamed government sources as saying. "Repsol has an extractive model for YPF that doesn't work for us. Company rationale doesn't contemplate the reinvestment of profits and putting capital into exploration and production based on what the country needs".
YPF stock has been battered by weeks of speculation about a possible re-nationalization and a series of sanctions by national and provincial authorities, such as the withdrawal of operating licenses.
YPF officials have defended the company's investment record and criticized provinces for revoking its concessions.
The company argues investment in Argentina rose 50% in 2011, with most of the cash channelled into upstream including exploration projects like those that led to the huge Vaca Muerta shale find, which could potentially double Argentina's energy output.
Meantime and following with the strategy of having oil provinces suspend concessions, Chubut governor Martin Buzzi announced that his administration is considering terminating oil concession in four wells, including Manantiales Behr, one of the most important in the country.
Buzzi stated the measure was based on accurate information regarding YPF failure to comply its contract. "Investments in Manantiales Behr decreased 70% in comparison to 2011 and wells they planned to drill during 2012 are 59% lower than the previous year," he said
Chubut Government is also considering the possibility of revoking YPF concessions in Los Monos, Río Mayo and Restringa Alí areas, "where investment is practically zero" according to governor Buzzi.
"This is not a policy against private funds, because the market's rules state that contracts must be complied and YPF is clearly not complying with production and investment goals, thus provoking a serious damage to our province and to the country. We have a strong responsibility to defend our national interests and this must be highlighted. If we did not have a Government like the one we have, it would be very hard for governors to make these kinds of decisions. Circumstances demand us to defend that which is ours by right," he concluded.
So far the provinces of Neuquen, Santa Cruz, Salta, Mendoza and Chubut so far have terminated YPF oil concessions in different wells and fields of those provinces.