India and Brazil agree to push for UN Security Council reform
Sunday, April 1st 2012 - 08:16 UTC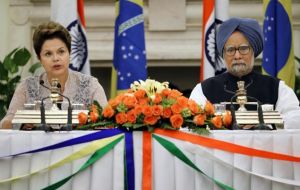 India and Brazil on Friday decided to step up efforts to push the UN reforms, particularly the Security Council and signed half a dozen agreements in areas ranging from science and biotechnology to cultural exchanges.
Brazilian president Dilma Rousseff on Friday began an official state visit to India holding wide-ranging talks with Prime Minister Manmohan Singh following the conclusion of the BRICS (Brazil, Russia, India, China and South Africa) summit in New Delhi.
During their 90-minute talks, PM Singh and President Rousseff also set a trade target of 15 billion dollars by 2015 and noted that bilateral trade and investment had grown by leaps and bounds. The two sides also signed six documents to enhance cooperation in the fields of science and technology, education and culture.
Noting that India and Brazil had emerged as "new growth poles" of the evolving global economy, PM Singh said the two countries had agreed to enhance consultations on reform of global governance system, particularly in the context of U.N. reforms and in the G-20 process.
"We have agreed to step up our efforts, particularly towards the reform of the United Nations Security Council as G-4 partners," the Prime Minister said. India, Brazil, Japan and Germany are part of the G-4 grouping that's pitching for a permanent seat in a reformed UN Security Council.
The two leaders also undertook a comprehensive review of bilateral relations, including the work of the inter-governmental Joint Commission Meeting which met last December in New Delhi.
"We directed our officials to take specific steps to exploit the full potential in areas such as trade, education, science and technology, environment, defense, space and nuclear energy" said the Indian Prime Minister.
Noting that bilateral trade and investment flows have grown by leaps and bounds, PM Singh said he and Ms. Rousseff were in "full agreement that these can be enhanced even further."
"We agreed to take measures to promote greater business interaction," he said.
The two countries also decided to reconstitute the India-Brazil CEOs Forum. Bilateral trade reached an unprecedented figure of 9.2 billion dollars in 2011.
India gave full support to President Rousseff's initiative 'Science without Borders', which is aimed at upgrading scientific and technological talent. "We look forward to receive Brazilian students in our institutes of science and engineering," sadi PM Singh.
Underlining a high degree of convergence between India and Brazil on global issues, PM Singh said the two countries shared "common perspectives on environmental issues" and wished Brazil success in hosting Rio+20 Conference on sustainable development in June this year.