Falkland Islands: Reflections on April 2
Monday, April 2nd 2012 - 15:39 UTC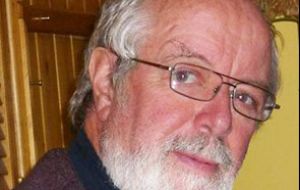 By John Fowler - Maybe because the days in the Falklands get noticeably shorter from now on and the onset of winter inevitable, April is nobody's favourite month here. To add to the gathering gloom at this time, hardly a year goes by without some journalist – usually Argentinean – ringing the office to ask how we are 'celebrating' the second of April, which marks the anniversary of the Argentine invasion of the Falklands in 1982.
To be perfectly honest, although I am aware of its significance, until the question is asked I am usually unaware of the date's approach. This year, however, being the thirtieth anniversary such blissful ignorance has been impossible; the calls have multiplied as has the number of TV teams and print journalists from all over the world appearing in our office.
In the face of a media invasion unprecedented since Prince Charles came here shortly after dancing the tango with President Menem daughter in Buenos Aires, it has not been possible simply to answer, "We're not!" and in any case, the question has changed subtly. Now, increasingly we are being asked not about our non-existent celebrations, but about our memories, thoughts and reflections, thirty years on.
It is difficult to explain the impact of the invasion on Stanley without being able first to adequately describe how quiet it was in those days. Had there been any dogs in the street to bark, they would have immediately been arrested for a breach of the peace. On any normal day the whole town was blanketed in the kind of solid calm only found these days on Sunday afternoon in the smaller islands to the West of Scotland.
To say that Stanley was a sleepy little place is to verge on hyperbole, but the early hours of April 2nd 1982 afforded little opportunity for sleep, with neighbours banging on the door seeking shelter, sounds of grenades and machine guns to the west of our house when the Argentine Special Forces attacked the Royal Marines barracks and more concentrated fire nearer us to the east as a gun battle raged around Government House.
The whole course of the invasion was reported by the local radio station, whose director, Patrick Watts, kept a line open for reports from the Governor, Rex Hunt, and also broadcast calls from people all over town, including from some who were under their beds or looking at the sky through holes made in their roofs by shrapnel.
With daylight and the final surrender of the Royal Marines things became quieter, but no less frightening. Knowing something of the atrocities committed on their own people by the military junta which ruled Argentina at the time was not reassuring and the series of communiqués from our new masters in both English and Spanish which began to issue from the radio did little to calm our fears.
Unless we had an urgent reason to do otherwise, we were ordered to stay in our houses, but the weather was so fine in the afternoon that we sat in the garden watching armoured amphibious vehicles lumber by, with their waving and smiling crews clearly puzzled when no one waved or smiled back.
I don't know to what extent I am typical of the now dwindling number of people who were actually in Stanley when our habitual calm was shattered, but I don't need a special day to remember the mixture of fear, uncertainty and foreboding that I felt on that day and for the following seventy-four. Thirty years on, memories which I would prefer to keep buried, can still arise unbidden at any time.
Yesterday the British Foreign Secretary, William Hague, said that he believed that this anniversary was a time for commemoration rather than celebration. I would agree with that sentiment. Too many families in both Britain and Argentina lost sons, fathers or brothers for this to be a time for unalloyed celebration and to the list of those who died in combat can be added the equal numbers of those ex-combatants from both sides who have since taken their own lives.
Among the many sad things arising from this episode is that despite all the sacrifices made, a lasting peace in the South Atlantic was not established and nothing changed. I would suggest that this situation will continue until the following conditions are met:
Argentina removes from its Constitution the recently added clauses which admit no other outcome than that the Falklands become Argentine and thus make any discussion of other options impossible.
Britain continues to defend our right to self-determination and our right to regard the natural resources in and around the Islands as ours to exploit as we see fit.
Argentina accepts that we are no longer a British colony or part of Britain and recognises the existence and legitimacy of our democratically elected government.
Argentina ceases to mislead its young people by feeding them a version of history which denies the recorded facts about the events of 1833, which are key to their claim.
Argentina recovers from the selective amnesia which allows it to brand Britain as a colonial aggressor, while forgetting not only that in 1982 it invaded a peaceful small country and then defied the order of the UN's Security Council to withdraw its troops, but also forgetting how, unlike in the Falklands, its own immigrant forefathers systematically wiped out their land's previous inhabitants.
It's a long list and it could be a long time, if ever, before all the conditions contained in it are realised, but unless all concerned can put aside prejudice and work constructively towards the establishment of new, peaceful and just relationships in the South Atlantic, we must regard those whose sacrifices we commemorate between now and June 14, not as either victors or defeated, but only as victims. (PN)