Falklands' Defence Force marks 30th anniversary of Argentine invasion
Monday, April 2nd 2012 - 02:33 UTC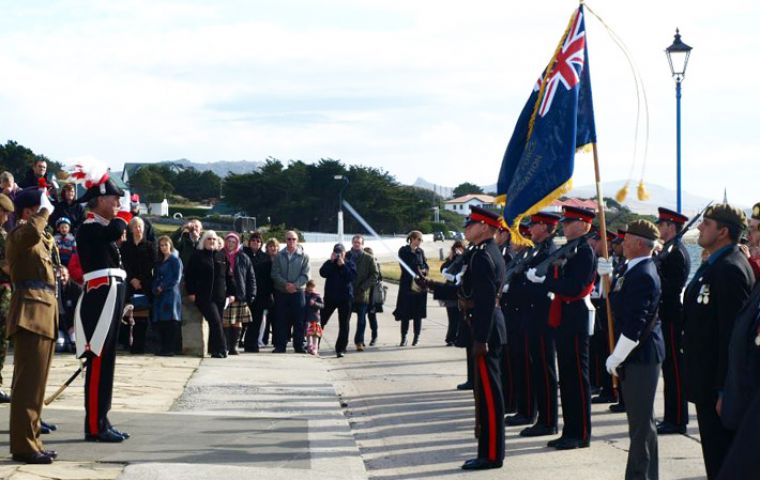 The Falkland Islands marked on Sunday the start of the South Atlantic conflict thirty years ago with a ceremony honouring local Defence Force members who were on duty the night of 01 April 1982 when the Argentine invasion.
Governor Nigel Haywood, Members of the Falklands' elected Legislative Assembly and the Commander of the British Forces South Atlantic Islands, Brigadier Bill Aldridge were present at the touching ceremony held on Sunday afternoon and accompanied by a crowd of well over 150 people.
Eighteen former Members of the Falkland Islands Defence Force, who were on duty the night of the invasion formed up where the former FIDF Hall was located and marched to the Liberation Monument on Ross Road.
Although disbanded during the Argentine invasion, FIDF members nevertheless played important roles helping the British forces with information, logistics and acting as messengers.
Many of the exploits of FIDF members as well as that of many brave locals were collected in Graham Bound's book 'Falkland Islanders at war"-1
The ceremony also included a religious service led by the Rev Richard Hines of Christ Church Cathedral and a wreath was laid by former FIDF Member and currently MLA, Gavin Short.
Reverend Hines read out the Roll of Honour, with names of the five members of the FIDF who have died since the 1982 conflict.
After the brief service authorities and a contingent of the FIDF as well as the veterans marched to Government House for a reception and toast.