Gibraltar/Algeciras agree to cross-border cooperation in matters of shared interests
Monday, April 2nd 2012 - 07:42 UTC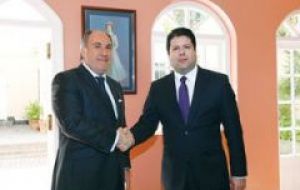 Gibraltar Chief Minister Fabian Picardo and Mayor of Spain's Algeciras Jose Ignacio Landaluce have both separately highlighted the importance of cross-border cooperation and co-existence, in dealing with the complex issues related to Spanish fishing activity in Gibraltar waters.
While the Algeciras Ayuntamiento approved a motion moved by Landaluce calling for "a viable and lasting diplomatic solution to overcome the difficulties faced by Campo fishermen in waters around Gibraltar," Picardo stated that he wished to ensure that "any misunderstanding as to the ambit and effect of Gibraltar law can be explained in a spirit of friendship and cooperation".
Picardo also declared that the Gibraltar Government awaited communication from the Spanish fishermen for a planned meeting with the RG Police Commissioner and officials from the Ministry of the Environment.
This had been agreed during the recent visit by Landaluce to the Rock for talks with Picardo, following the Gibraltar Government's decision to scupper the informal 1999 Fishing Agreement negotiated by the previous administration, and enforce the more rigorous 1991 Nature Protection Ordinance.
A Convent Place spokesman said: "The Gibraltar Government can confirm that it still awaits communication from those representatives of Spanish fishermen who, it was agreed, were to meet with the Commissioner of Police and the technical staff of the department of the Environment to have explained to them the details of Gibraltar's Nature Protection Act.
"These meetings were programmed as a result of the meeting the Chief Minister held last week with the Spanish MP and Mayor of Algeciras, Jose Ignacio Landaluce and the Government trusts they will go ahead as soon as possible in order to ensure that any misunderstandings as to the ambit and effect of Gibraltar law can be explained in a spirit of friendship and co-operation."