Argentine invasion of the Falklands, 'a profound wrong' says PM Cameron
Tuesday, April 3rd 2012 - 00:47 UTC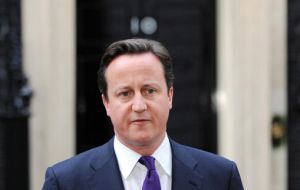 British Prime Minister David Cameron on Monday April 2 called Argentina's invasion of the Falkland Islands three decades ago a "profound wrong" aimed at depriving the Islanders of their freedom.
Cameron also reaffirmed Britain's commitment to defending the Islanders' right to choose their fate in a statement issued to mark the invasion's 30th anniversary.
"Thirty years ago today the people of the Falkland Islands suffered an act of aggression that sought to rob them of their freedom and their way of life," Cameron said.
He added the anniversary should be used to commemorate and reflect on those killed in the resulting 74-day conflict, which claimed the lives of 649 Argentine and 255 British troops and also killed three Falkland locals.
Argentine dictator General Leopoldo Galtieri ordered the dawn invasion on April 2, 1982. British Prime Minister Margaret Thatcher responded by sending a task force to reclaim the Islands.
Britons were "rightly proud of the role Britain played in righting a profound wrong", Cameron said, paying tribute to the "prosperous and secure" society built there since the war.
Britain remains "staunchly committed to upholding the right of the Falkland Islanders, and of the Falkland Islanders alone, to determine their own future," Cameron insisted on Monday.
"That was the fundamental principle that was at stake thirty years ago: and that is the principle which we solemnly re-affirm today," he added.
Britain will mark the 30th anniversary of the start of the war with a single candle to be lit at Britain's National Arboretum, The candle will be lit at the Millennium Chapel in the National Arboretum near Burton-upon-Trent, Staffordshire at 09.00 BST and it will be followed by a short service of remembrance led by Reverend Vic Van Den Bergh, the Arboretum's Honorary Chaplain.
The candle will be left alight for 74 days - which was the length of the conflict.
PM Cameron will also recall that April 2 should be a day of commemoration and reflection.
"Today is a day for commemoration and reflection: a day to remember all those who lost their lives in the conflict - the members of our armed forces, as well as the Argentine personnel who died".