Argentina's main grains export hub blocked by grounded vessel
Thursday, April 5th 2012 - 23:06 UTC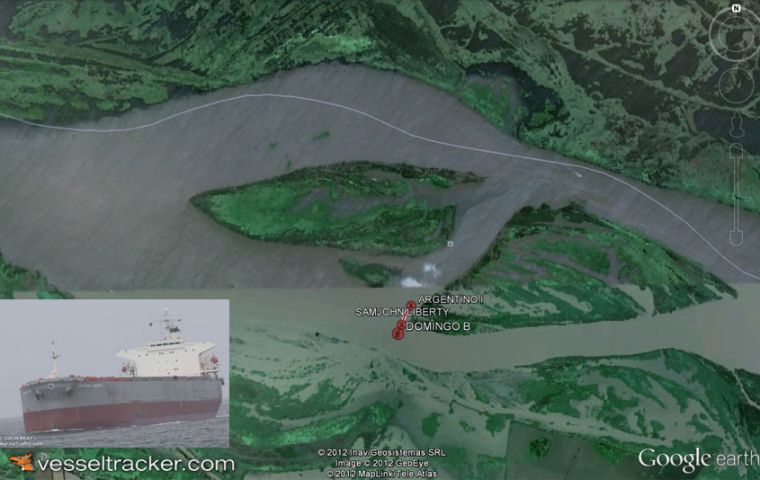 Tens of cargo ships are delayed in Argentina because a grain-bulk carrier has grounded in the Parana River, 150 kilometres south of the city of Rosario, which is the country's grains and oil seeds hub.
Three tugs are working round the clock to try and free the bulk carrier but meantime tens of vessels are waiting in the blocked river.
"The navigation channel remains closed by the Coast Guard since April 2 at midday because the vessel Samjohn Liberty grounded in kilometre 280 of the Paraná River", said an official communiqué from the Rosario Chamber of Port and maritime activities, CAPM.
According to ship chandlers tens of vessels waiting to load grains and oil seeds are delayed because a vessel contracted by Dreyfus with the purpose of shipping 48.000 tons of soybeans to Poland remains grounded.
"Since Tuesday the ship is being helped by two tugs and a third, more powerful, joined on Wednesday. Traffic both ways along the river remains blocked", said Guillermo Wade, manager of CAPM
The accident could not have come at a worst moment since Argentine farmers are harvesting soybeans and corn, intensifying port activities in Rosario which has become Argentina's main export port for soy oil, soy flour and second for corn.
The south of Brazil where the Parana basin is born suffered an extreme drought in the early months of the year, which according to Wade could be the main reason behind the lower level of the river that has caused several groundings.
In early January a similar situation with another grain bulk carrier caused a several days delay involving over one hundred vessels.