United Airlines inaugurates daily non-stop service between Newark and Buenos Aires
Thursday, April 5th 2012 - 23:16 UTC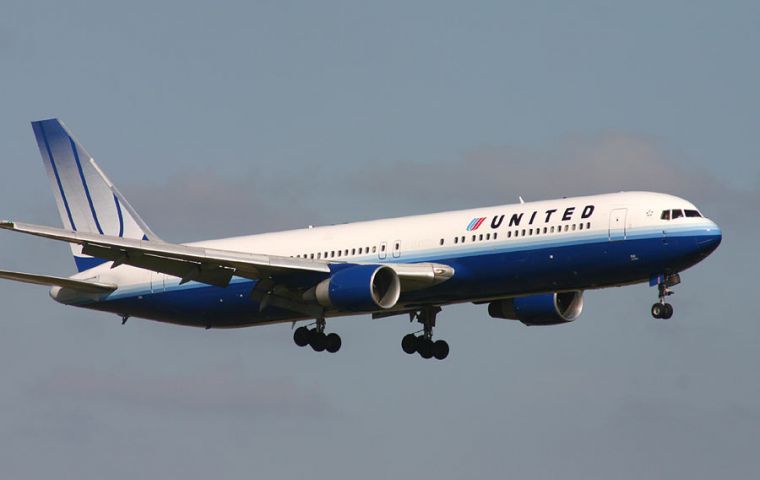 United Airlines will begin daily non-stop service between its hub at Newark Liberty International Airport and Buenos Aires, Argentina's, Ministro Pistarini (Ezeiza) International Airport on April 6.
This is United's first service from Newark Liberty to Buenos Aires. The airline also offers daily non-stop flights between Houston and Buenos Aires.
"The New York/Newark-Buenos Aires route gives East Coast travellers direct connections between two of the major business and tourism destinations in the Americas," said John Slater, United's vice president sales for the Americas.
The new flight, UA847, will depart New York/Newark at 9:50 p.m., arriving in Buenos Aires at 9:35 a.m. the next day. The return flight, UA846, will depart Buenos Aires daily at 8:10 p.m., arriving in New York/Newark at 6:13 a.m. the next day.
The flights will be operated with Boeing 767-300 aircraft with a total of 183 seats: six in United Global First, 26 in United BusinessFirst and 151 in United Economy, including 71 Economy Plus seats with added legroom and increased personal space.
Customers in United Global First and United Business-First may enjoy more than 150 hours of on-demand entertainment on 39cm personal monitors, connect their iPods via dedicated outlets, relax on flat-bed seats and savour world-class cuisine with United exclusive menu options.
The new service replaces United nonstop service between Washington and Buenos Aires. From its Newark Liberty hub, United offers an extensive network of flights to more than 200 destinations throughout the Americas, of which more than 100 are served non-stop. No other airline serves as many non-stop destinations or offers as many seats from the New York area as Unit