China's inflation rebounds in March conditioning easier monetary policy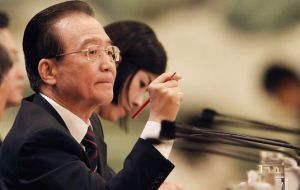 China's inflation rebounded slightly in March after logging an extremely low growth in February, backing lingering uncertainty regarding the country's ability to contain price rises.
China's consumer price index (CPI), a main gauge of inflation, expanded 3.6% year-on-year in March, the National Bureau of Statistics (NBS) said on Monday.
The growth represents a climb from the 3.2% rate registered in February, the lowest pace in 20 months.
Food prices, which account for nearly one-third of the weighting in the calculation of China's CPI, increased 7.5% last month from one year earlier.
The rebound comes as the public fret over vegetable and fuel price hikes that have triggered a fresh wave of inflation concerns.
Statistics from the Ministry of Commerce showed that the wholesale prices of 18 staple vegetables rose for four consecutive weeks from February, posting an increase of 9.7% by early March.
But analysts attributed the surge to inclement weather and held that the trend is likely to be stemmed as the weather gradually warms up.
Premier Wen Jiabao has cited inflation is one of China's main economic worries and has set a target of 4% for 2012. The CPI climbed 3.8% in the first quarter compared with the previous year.
Analysts said the data may prompt the central bank to hold back on monetary policy easing for now.
China's economy grew by 8.9% in the three months to the end of December from a year earlier, the slowest pace of growth in more than two years.
There have been concerns that its growth may slow even further amid a slowing demand for its exports from key markets such as the US and Euro zone. In a bid to sustain its pace of growth, China's central bank has been easing its monetary policy in recent months.
It has cut the amount of money banks must keep in reserve twice in the past few months, in effect giving them more money to lend to consumers, in a bid effort to boost lending and sustain economic growth.