FT says UK trying to collect £ 45m Argentina used in the Falklands' conflict
Monday, April 9th 2012 - 06:17 UTC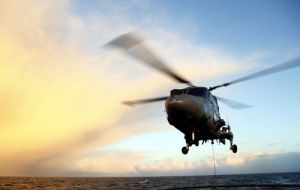 According to a piece from the Financial Times Britain is chasing £45m of debt owed by the Argentine government that was lent to the military Junta in 1979 and used, in part, to buy weapons that were later used during the Falkland Islands in 1982.
UK Export Finance, an arm of Business, Innovation and Skills department, inherited the debt after Argentina defaulted on loans to British exporters, which were underwritten by the UK government at the time. Allegedly the goods supplied by those exporters included two Lynx helicopters and two Type 42 warships, which were used in the Falklands invasion.
The Financial Times says that debt campaigners are calling on Secretary Vince Cable to stick to his Liberal Democrat party's official policy of canceling debt "that was recklessly given to dictators known not to be committed to spend the loans on development".
However a spokesperson for the business department told the Financial Times: "The government has no plans to offer debt forgiveness. If Argentina requires further debt relief to that already agreed, it should approach the Paris Club [the intergovernmental body that agrees debt relief], which is responsible for addressing these matters on behalf of all official creditors on a multilateral basis."
Nick Dearden, director of the Jubilee Debt Campaign said that "lending the military Junta money to buy British weapons was illegitimate and odious. The Liberal Democrats must stick to their pledge to rule invalid loans recklessly given to dictators."
He added: "The anniversary of the Falklands war should force the government to question the way it does business. The government must implement Liberal Democrat policy and stop subsidizing war through the backing of loans to other governments to buy weapons."
Documents uncovered by the campaign group reveal that UK ministers had doubts about the original decision to underwrite the loans.
Lord Owen signed off on the decision when he was Labour foreign secretary in 1979. At the time, he said "important questions of principle" were raised given the "size of potential arms sales to a regime whose human rights record is worse than Chile [which was under an arms embargo from the UK at the time]" and could "come close to a confrontation with us over the Falklands".
But he went on to say in a letter to the Ministry of Defense: "I think we must recognize that it is not possible to achieve complete consistency in our approach."
He added that there was "no Foreign Office objection to the sale of the Lynx helicopters" even though he acknowledged "these items would be relevant in any threat to the Falkland Islands".