Argentina expects strong Malvinas support statement from the Americas summit
Tuesday, April 10th 2012 - 07:06 UTC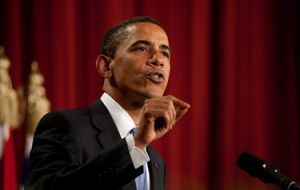 Argentine president Cristina Fernandez will be attending on Saturday the VI Americas summit to be held in Colombia, which is already involved in a strong controversy because of the non invitation to Cuba.
From the historic Colombian city of Cartagena de Indias, the Argentine leader expects to leave with another strong regional support for her sovereignty claim over the Falklands/Malvinas, as has been her policy in all possible international meetings.
The two-day meeting, April 14/15, with US President Obama presence confirmed, already took off with a conflict from the moment Ecuadorean president Rafael Correa announced he will not be attending Cartagena or any other future Americas summit if Cuba continues to be excluded.
The coming summit is the first the Argentine president will be attending since her re-election and the second time she flies overseas, following the state visit to Chile of a few weeks ago.
As has been her administration's policy and that of her former husband and president Nestor Kirchner, she plans leaving Cartagena with another full support for Argentina's claim over the Falklands/Malvinas as her government intensifies the campaign to recover the Islands on the 30th anniversary of the South Atlantic conflict with the UK.
Regarding Cuba, Colombia abstained from inviting the Castro regime alleging lack of consensus among OAS member states. This was particularly true for the President Obama administration that barred such a presence, from the moment Cuba does not wish to be re-incorporated to OAS which would force Havana to sign and adhere to the Inter American Democratic Charter.
OAS lifted the ban on Cuba in 2009, standing since 1962, and left the initiative of the return to the Organization of American States, in the hands of Cuba.
Another regional figure and close ally of Cuba, Hugo Chavez Venezuela has warned this must be the 'last Americas summit' without the participation of Cuba.