Hillary says US interested in "a 21st century partnership" with Brazil
Wednesday, April 11th 2012 - 13:24 UTC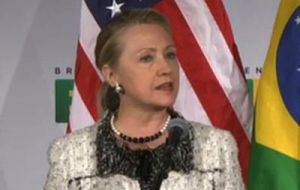 Secretary of State Hillary Clinton described Brazil as a "responsible country" in world affairs and praised Brazil's "growing impact in global stability and security", during an event at the US Chamber of Commerce.
"We face complex challenges in our region, and in this, Brazil is a responsible player", underlined Ms Clinton next to Brazilian Foreign Affairs minister Antonio Patriota, one of several ministers of President Dilma Rousseff's delegation on a two-day visit to the US.
Patriota also referred to Brazil's growing role in helping with world peace and security.
"The US continues to be a global power. But Brazil also has its strengths: it is the world's sixth economy, a global power in agriculture and energy, a country with abundant natural resources and an increasingly sophisticated labour force as well as a vibrant democracy and a peace agent in the region and the world", said the Brazilian minister.
"Perhaps Brazil's unique comparative advantage in this emerging world order is that we would like to be a constructive, peaceful link between and among the different poles" said Patriota adding that Brazil's diplomacy has to its credit "equality and tolerance".
However in spite of the praises from the top officials, Brazil's efforts to obtain a decisive strong US support for its ambition of becoming a full member of the UN Security Council (as has been the case with India) was elusive, if not absent.
In effect Secretary of State defined the goal of the US in its relation with Brazil: to establish "a 21st century partnership". She indicated that there is a tremendous unexplored potential in both of our countries, so "let us start to explore ways to work and prosper together".
Ms Clinton said that Brazil is "an inspiring success story: a dynamic economy that elevated millions to the middle class; a country helping to feed the world and which produces everything, from commodities to aerospace technology, and whose goods and services have growing demand worldwide".
"I'm confident that this relationship will serve to stabilize our hemisphere, our economies, but even reach far beyond. Because what we want to see is the progress in Brazil that has been so laudable over the last several decades continue to grow from strength to strength,"
"Our proximity in the western hemisphere to some of the fastest growing economies in the world and some of the most vibrant democracies, is a great plus for our continent", added the Secretary of State.
Thus "we want to be partners, partners in equal terms, to promote sustainable, diversified growth, marked by innovation which also results in long term progress".
Patriota returned the compliments saying that Brazil is betting strongly in the recovery of the US economy and also invests heavily in the US since "it is a country of extraordinary resources, flexibility, first level academic institutions, with a great capacity to re-invent, and thus Brazil sees the US as a privileged associate".
However Brazil in its bilateral trade relation with the US is back to square one "when we sold commodities and imported industrial goods. This is something we must address seriously and we plan to do so. Brazil has become the world's seventh country with the largest trade deficit with the US".