Mother's instinct saves newborn Light Miracles from the morgue
Thursday, April 12th 2012 - 05:58 UTC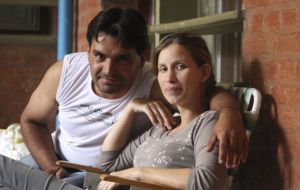 A mother whose newborn baby was found alive in an Argentine morgue 12 hours after being declared dead on Wednesday blamed hospital negligence for the near-fatal mistake.
Doctors told Analia Bouter that her baby was stillborn when she gave birth in Argentina's northern Chaco province on April 3. But when she and her husband Fabian Veron pried open the coffin inside the refrigerated morgue, they found the baby breathing.
"We knelt down and thanked God for this miracle," Bouter told reporters. "The doctor always treated the baby as if she were dead ... 15 minutes after my daughter was born she was already placed in a closed coffin."
The couple named her Luz Milagros - her middle name meaning miracles in Spanish. Officials say the infant, who was born three months premature, is in critical but stable condition.
The Veron family has four other children.
Five hospital workers involved in the case were suspended, a provincial health official told a news conference on Tuesday, when the baby's story first came to light.
The hospital's director Jose Luis Meirino said: 'At the moment we have no explanation.
'The baby was attended to by obstetricians, gynaecologists and a neonatologist. They all reached the same conclusion, that this girl was stillborn.'