Spain warns Argentina that any hostile action "will bring consequences"
Thursday, April 12th 2012 - 17:08 UTC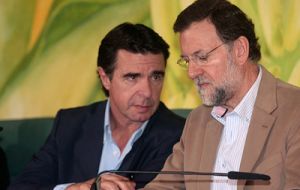 Amidst the cross-fire between the Argentine government and Repsol-YPF oil giant, Spain's Industry, Energy and Tourism Minister José Manuel Soria, warned on Thursday that "any sign of hostility" against Spanish companies "will be considered as a hostile sign against Spain and its government, and will bring consequences."
Soria did not specifically mention Argentina or the administration of President Cristina Fernández, but remarked that his government defends the interests of all Spanish companies whether they are in Spain or overseas, and warned that consequences should be faced by those who go against Iberian companies.
The official seat of the Spanish government in Madrid, La Moncloa distributed among the media Soria's statements that is currently in Warsaw together with President Mariano Rajoy in a Spain-Poland round of business talks.
"If in any part of the world there are signs of hostility against Spanish interests, they are interpreted as signs of hostility towards Spain and tow
ards the Spanish government" reiterated the statements.

In recent months six Argentine provinces have revoked YPF licences to operate in at least twelve fields, while others have threatened with similar actions if the oil company does not increase investments to ensure a greater production.
The Patagonian province of Santa Cruz which had already cancelled two YPF areas on Wednesday confirmed further suspension action in three additional areas. YPF argues it had presented the provincial government a long term investment plan for the next five years totalling 4.3 billion dollars.
Repsol which has a 57.43% stake in YPF, and the Argentine group Petersen with 25.46% had announced that the group would be investing 3.4 billion dollars this year in further exploration and production, which is higher than the 3 billion of 2011.
The Argentine government is scheduled on Thursday to meet with governors of the so called Hydrocarbons producing provinces when it will announce its future plans for YPF.
The Argentine media has insistently published that the government of President Cristina Fernandez is considering buying a majority stake in the company or simply re-nationalizing Argentina's main oil and gas producing corporation.
President Cristina Fernandez charge against YPF and other oil companies is based on the growing Argentine energy import bill which last year reached almost 11 billion dollars. The country not so long ago was self sufficient, a condition the president has insisted in recovering.