Swiss video accuses Blatter of ignoring human rights in run-up to World Cup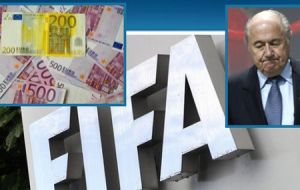 A video featuring world football boss Sepp Blatter dancing uninhibitedly has been launched in Switzerland to draw attention to human rights in the run-up to the 2014 World Cup.
The trade union-backed organization Solidar Suisse wants Fifa, world football's governing body, to speak out against what it says are rights abuses in countries that host the World Cup, specifically Brazil next year.
The on-line video shows a Blatter look-alike dancing to the tune of a Brazilian pop song, and pirouetting across the stage – only to end up doing the splits.
The Solidar Suisse website says that in connection with the World Cup 150,000 people are being evicted, thousands of workers "are toiling under terrible conditions" and "tens of thousands of street vendors are losing their livelihood" because World Cup sponsors are given exclusive rights to selling merchandise.
It adds that Fifa will pay no taxes on the profits it makes.
It appeals to Blatter to step in and stop the abuses. It says Fifa has the means to turn the World Cup into a "joyous occasion for everyone".
The organization wants 50.00 people to "blow the whistle" by signing up on its site. It says it will then hold a concert of whistling outside the Fifa headquarters in Zurich.
Fifa has given no official reaction. However, its media department responded to an email from the French-language newspaper, Le Matin, saying: "You will understand that we cannot give a serious response to a spoof".