Cristina Fernandez and Obama will hold bilateral meeting in Colombia
Friday, April 13th 2012 - 03:03 UTC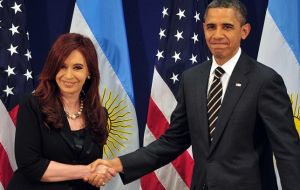 Argentine president Cristina Fernandez leaves on Friday for Colombia to attend the two-day sixth Summit of the Americas where she is scheduled to hold a meeting with President Barack Obama on request from the White House, according to the Executive press office in Buenos Aires.
"The bilateral meeting has been scheduled for Saturday afternoon, in the framework of the Summit's deliberations", said Press Secretary Alfredo Scoccimarro.
Although the agenda was not revealed Argentina and the US have several irritating issues pending regarding mainly trade, protectionism and compensation for American companies as well as possible retaliatory measures.
Barack Obama is also scheduled to arrive Friday night at Cartagena de Indias for the two days deliberations, April 14/15.
Foreign Affairs ministers of the participating countries will be meeting Friday to iron out the final details of the documents to be subscribed at the end of the summit.
Colombia as the host country has chosen as main issue of the meeting, "Connecting the Americas; partners for prosperity" which will be focalized in several items: poverty; inequality; security and organized trans-national crime; reduction and control of disaster risks; physical infrastructure integration; access to information and communications technologies.
Likewise a political statement will refer to five encompassing issues of hemispheric interest such as the drugs global problem; migratory challenges; hemispheric cooperation; gender issues; colonialism and military occupation; energy; the Malvinas question; Cuba's absence from the summit and sovereignty over natural resources.