China allows wider flotation margin for the Yuan against the US dollar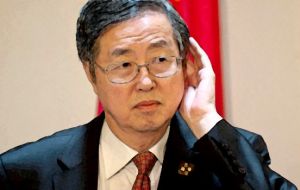 China will allow the Yuan to trade in a wider daily range against the US dollar from Monday, taking another major step to further liberalise its exchange rate regime and make its currency more market oriented.
The People's Bank of China, the central bank, said it would widen the Yuan's trading band against the US dollar to 1% above and below a daily reference exchange rate from 0.5% now.
It last expanded the US dollar-Yuan trading band from 0.3% in May 2007.
The US reacted cautiously to the announcement.
"They've made some progress; we'd like to see more movement. We noted this announcement. We're reviewing it closely," said Ben Rhodes, deputy national security adviser for strategic communications.
"It comes in the continuum of us wanting to see the Chinese take more of these steps to see their currency appreciate to come in line with the market value," he added.
International Monetary Fund managing director Christine Lagarde welcomed Beijing's move as a major step towards more market-oriented reforms.
"I would like to welcome this important step by the People's Bank of China to increase the flexibility of their currency," Ms Lagarde said.
China's move comes at a time when pressures for the Yuan to appreciate have eased after recent data showed the country's trade had become more balanced, ending a remarkable era of constant huge trade surpluses as Chinese goods flooded the global market with the help of inexpensive labour and a cheap Yuan.
Premier Wen Jiabao and Zhou Xiaochuan, governor of the People's Bank of China, have hinted strongly on various occasions in recent months that they would let the Yuan trade in a wider range as they argued the currency was nearing fair value.
The authorities' decision also followed data showing the world's second-largest economy grew at its slowest pace in three years in the first quarter, a development that calls for further policy easing.
The Yuan has depreciated 0.14% against the US dollar so far this year and accumulated a gain of 8.3% since Beijing effectively de-pegged its currency from the greenback in June 2010. The Yuan was trading at 6.3 to the US dollar last Friday.