Argentina sends bill to takeover control of YPF from Spain's Repsol
Monday, April 16th 2012 - 21:48 UTC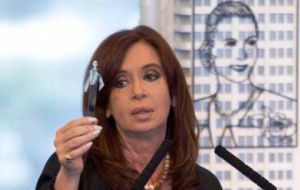 Argentine President Cristina Fernández de Kirchner sent to Congress a draft bill to expropriate Spain's Repsol's holdings of YPF oil and gas company. The announcement was made on Monday at the Government House during a sudden meeting with officials, political leaders, unionists and businessmen.
The draft bill contemplates the expropriation of YPF, Argentina's biggest company, with the Argentine State holding 51% stake of the 57.43% that Spanish Repsol controls since 1999.
Out of the 51% expropriated, the Executive Power will own 51% which equals to 29.3% of the company's stake, while Argentina's 23 provinces plus the Buenos Aires City will own 49% of the 51% expropriated to Repsol, thus owning 28.14% of the company.
Spanish Repsol will so far preserve 6.43% of the company, while 17.09% will remain for trade at Buenos Aires, New York and Madrid stock exchanges. Likewise, the Petersen Group -own by the Ezkenazi family-(and good friends of the Kirchner family) will keep its current 25.46% stake in the company
The announcement came as the first activity of the President after her arrival from the 6th Summit of the Americas held in Cartagena de Indias in Colombia, where she skipped the closing meeting after reprimanding Colombia's President Juan Manuel Santos for not having included Argentina's sovereignty claim over Falklands/Malvinas and other South Atlantic islands in the summit's agenda.
President Cristina Fernández argued that the decision to expropriate the majority of shares held by Spanish Repsol came after "witnessing how 17 years after the [1992] privatization of YPF, Argentina became, for the first time, a net importer of oil and gas with a total deficit of over 3 billion dollars."
Moreover, the Head of State explained that "in 2011 the oil and gas imports showed a year-on-year increase of 150% having spent over 9 billion dollars, which was almost as much as last year's trade surplus."
"We don't promote nationalizations, but we focus on recovering our resources", insisted the Argentine president.
Escorted by Vice President Amado Boudou, Cabinet Chief Juan Manuel Abal Medina, and Interior Minister Florencio Randazzo, the Argentine President emphasized that "Energy and hydrocarbons are vital for any country in this world, and we can not afford to let them being managed by private companies."
The president then went on to list countries that currently hold a control of the energy industry.
"The United Arab Emirates control 100% of their oil and gas industry, same with China, Iran, Venezuela, Uruguay, Chile, Ecuador, Mexico, Malaysia and Egypt among many others. Colombia holds 90% stake, Russia's Gazprom holds 50% stake, Brazil's Petrobras 51%. So this is not something we came up with one day and all of the sudden
Likewise, Cristina Fernandez replied to Spain's Economy Minister that earlier on Monday indicated that in case of nationalizing Repsol-YPF, Argentina will be definitely sinking in the waters of populism, and remarked that "We do not choose a nationalizing model, but we promote a model focused on recovering the sovereignty of the country's resources."
After making the announcement the Argentine president signed a decree ordering the intervention of the company, and appointing Planning Minister Julio De Vido, and Economy Deputy Minster Axel Kicillof as controllers.
De Vido will take responsibility for the company' whole management, while Kicillof will focus on the company's finances. Compensation for the seizure will be determined by the National Appraisal Tribunal, she said.
The takeover follows more than two months of government pressure on YPF as Argentine fuel imports surged. The country sought to block YPF dividends and also backed provincial governments' decisions to revoke 15 oil field licenses.
The government of Cristina Fernandez nationalized the private pensions' fund holdings of 24 billion dollars and airline Aerolineas Argentinas SA since taking office in 2007.
Maria Dolores Cospedal, general secretary of Spain's governing People's party, said the Spanish government will take action in response to Argentina's YPF action and will have the backing of other European Union members.
YPF Amerian depositary receipts tumbled 11% to 19.50 dollars before being halted at 1:30 p.m. in New York. Earlier, they plunged as much as 21%.
YPF output accounted for about 34% of Argentina's production in 2011, according to energy secretariat data. The company is also the country's largest fuel retailer and refiner, with about 50% of refining capacity.
Energy demand grew over the past decade as Argentina recovered from a financial crisis that included a record 95 billion dollars default in 2001.
South America's second-largest economy expanded an average 7.8% since 2003, including 8.9% growth last year.
As economic growth spurred demand for fuel, oil output declined. Since 1999, the year Spain's Repsol acquired controlling interest in YPF production dropped 32% to 33.2 million cubic meters last year, according to data compiled by the Buenos Aires-based Argentine Oil and Gas Institute.