Mexico appeals to CFK: nobody in its right mind invests in countries that expropriates
Tuesday, April 17th 2012 - 07:07 UTC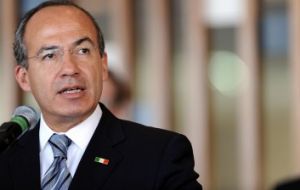 Mexican president Felipe Calderón and G-20 group head, said that Argentina's plan to seize a majority stake in Repsol's Argentine branch YPF is "very regrettable" and called on President Cristina Fernandez to reconsider and rectify the decision.
"I sincerely hope that Argentina can rectify that decision" said Calderon on Monday evening addressing an audience of under 40 leaders in the framework of the World Economic Forum, Latin America chapter, which takes off on Tuesday at the Pacific resort of Puerto Vallarta.
"I consider very regrettable that the Argentine government, our friend Cristina Fernandez could have taken a measure that is in nobody's interests" including the Argentines, insisted the president of Mexico, whose government owned oil corporation Pemex has a 9.5% stake in Repsol, and thus in YPF.
"This is absolutely a not very responsible measure or rational for that matter" Calderon said. "It is clearly in violation of treaties and accords about the reciprocity of investments".
Calderon is scheduled to hold a meeting with visiting Spanish president Mariano Rajoy during the coming sessions of the regional Economic Forum.
"All developing countries, we need investments and nobody in his right mind invests in a country which expropriates investments" warned Calderon who pointed out that the worst signal for investors is seeing a country which takes over foreign investment ignoring contracts and rule of the law.
Calderón's statements were followed by an official release from the Mexican Energy ministry regretting the Argentine Executive decision to seize YPF.
"Mexico considers that Latin America must be aware that if it wishes economic growth to reach full employment and sustainable development for its peoples, the path is certainly not expropriations, the way is trade, commerce and reciprocal investments".
Therefore we pray for the "preservation of a climate of certainty and trust in economic exchanges, and with special attention to those conditions that make possible the investments both domestic and foreign".
Finally the Ministry of Energy revealed that "recently" and given the news of the possible expropriation of part of YPF, the Spanish government requested from Mexico, "since it currently holds the presidency of the G20 group" its support "for transmitting Spanish concern regarding the situation of YPF in Argentina" and this request has been attended to for its distribution and consideration.