Brazil feels YPF dispute will not interfere with Petrobras operations in Argentina
Wednesday, April 18th 2012 - 22:34 UTC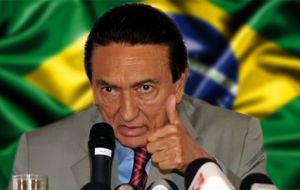 Brazil's Mines and Energy minister Edison Lobao discarded that operations of Petrobras in Argentina could be affected by the decision from the administration of President Cristina Fernandez to expropriate YPF from Spain's Repsol.
"I don't think there is any major problem related to Argentina, Petrobras has 79 supply stations in Argentina and continues to operate normally. I have no fear of unexpected events regarding this issue", said Lobao during a congressional hearing on Tuesday.
"Each country has its sovereignty and can act as it best pleases", added the minister in direct reference to the Monday decision by the Argentine government to take over a majority stake in YPF from Repsol.
Petrobras has significant investments in the neighbouring country where it operates under the affiliate Petrobras Argentina. The majority of the assets was acquired from the Argentine private group Perez Companc and is concentrated in gasoline stations and several exploitation fields in the provinces of Neuquen, La Pampa and Chubut.
"I see no special motive to have fears regarding Petrobras, but if that is a special policy from Argentina, I don't see why we have to make claims" said Lobao who as Energy minister is also a member of the managing board of Petrobras.
However last month Petrobrás suffered the cancelling of one of its exploration and production licences in Neuquen because allegedly it had not invested sufficiently or what was planned, the same excuse used the Argentina for the expropriation of a majority stake in YPF from Repsol.
Lobao said that he had recently visited Buenos Aires and felt there was "a climate of absolute calm, 'business as usual', regarding our assets in Argentina".
The minister said that this Friday there is a meeting scheduled in Brasilia between the Argentine Planning minister Julio De Vido and the president of Petrobras, Maria Graca Foster, when issues related to the Brazilian corporation in Argentina will be addressed including the cancellation of the Neuquén licence.
According to Petrobras CEO Foster the meeting will be "most important to clarify the situation. We were surprised with what happened with our areas in Neuquén. We have complied entirely with the minimum exploratory program and we had announced we would be drilling six wells in the second half of the year".
She added Petrobras is ready to answer all the questions that may arise.