Repsol shares plunge 32.7% in Wall Street after three days of trading suspension
Wednesday, April 18th 2012 - 22:49 UTC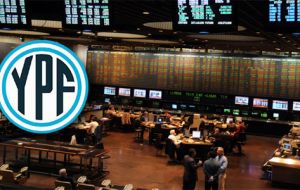 Shares of Argentina's biggest energy company Repsol-YPF plunged 32.7% on Wednesday in Wall Street after transactions resumed following three days of suspension.
In Buenos Aires, YPF stocks plummet by 28.7% while in Spain, Repsol YPF shares fell by 5.7%.
YPF shares plunged this week after president Cristina Fernández announced last Monday the government was sending to the Congress a draft bill allowing the administration to expropriate 51% of the 57.43% share-package belonging to Repsol.
Repsol YPF shares sank 6.2% on Tuesday in Madrid, to 16.34 Euros each and losing 1.3 billion Euros.
Also affected was construction firm Sacyr Vallehermoso, which owns 10% of the oil giant, finishing down 5.9%.
Repsol's CEO Antonio Brufau has accused Argentina of mounting a concerted effort to drive down the value of its Argentine division to expropriate it at a "bargain" price.
Brufau says the firm will mount a legal fight against the nationalization bid. Spain's government is also defending Repsol amid deteriorating relations with Argentina.
Brufau says YPF is worth 18.3 billion dollars, and he valued Repsol's stake at 10.5 billion dollars.