Brazilian polar vessel vistis Montevideo at the end of her Antarctic tour
Thursday, April 19th 2012 - 23:26 UTC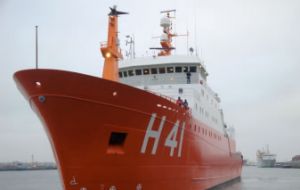 The Brazilian navy polar research vessel "Almirante Maximiano" at the end of its XXXth Antarctic operation, Operantar, arrived on Thursday at Montevideo to take fuel, supplies and exchange experiences with Uruguayan officers.
The vessel is equipped with hydrograph, oceanography, geology, biology and geophysics instruments plus five scientific research labs, a weather station, DGPS, three cranes and five support dinghies as well as capacity to operate two helicopters.
According to an official release the Brazilian vessel completed 150 nautical miles of hydro-oceanographic survey with multiphase echo-sounder which will enable the development of improved nautical charts.
The vessel was also involved in research on the impacts of global climate change, including anthropogenic changes in the Antarctic marine environment, anthropologic surveys of XIX and XX century communities, sea bottoms studies and gathering of information from thirteen oceanographic drillings,
"Almirante Maximiano" completed 5.444 nautical miles (almost 10.000 kilometres) promoting scientific and research activities in the islands of King George, Livingston and Elephant, and visiting several other Antarctic bases.
Next April 22 the polar vessel leaves for Brazil to finish the last leg of Antarctic Operation when it will have logged 225 days or which 171 sailing and 19.000 nautical miles.
The Almirante Maximiano is an icebreaker and oceanographic research vessel. The ship bears this name in honor of Admiral Maximiano Eduardo da Silva Fonseca. It was built by the Todd Pacific Shipyards of Seattle, Washington, and was launched on 13 February 1974. It was acquired by the Brazilian navy on 3 September 2008 for the Antarctic Program.
She displaces 3.865 tons and 5.450 fully loaded with a length of 93.4 meters, beam, 13.4; draught, 6.59 and can cruise at a speed of 13 knots. The icebreaker has a crew of 106 and carries two Helibras Esquilo helicopters.