"President Rajoy, in Colombia we don't expropriate, we welcome foreign investment"
Thursday, April 19th 2012 - 21:21 UTC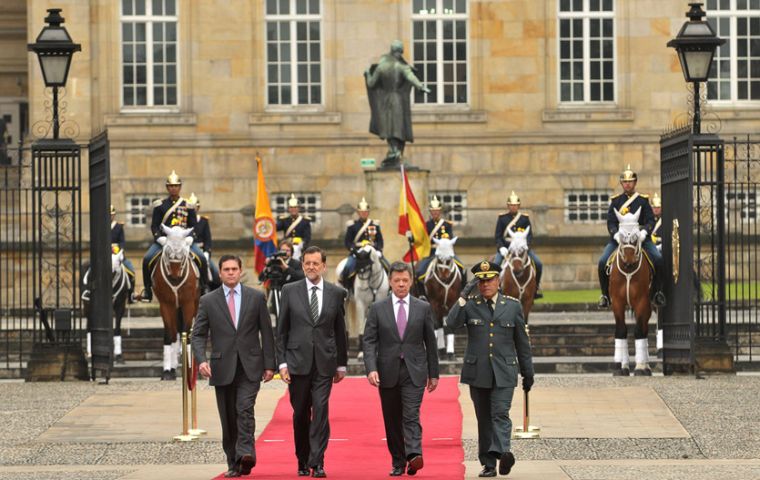 Colombian president Juan Manuel Santos welcomed Spanish corporations and guaranteed his visiting Spanish peer Mariano Rajoy that in Colombia there will be no surprises because the country follows the rules of the game: "President Rajoy: here we don't expropriate".
Santos made his comments on Thursday at a Colombia/Spain business conference in Bogotá, attended by President Rajoy and over 200 representatives from the leading Spanish corporations and investors.
Argentina's government this week announced the expropriation from Spain's Repsol of a majority stake the company has in its Argentine subsidiary YPF.
"What we want is for you to feel that there are stable rules here and that we aren't going to change those rules," Santos said, adding that the government wants investors to take responsible actions in social and environmental issues.
"Here we don't expropriate, President Rajoy," Santos said, adding that Colombia welcomed Spanish corporate investments in areas such as infrastructure improvements. "And if they make money, plenty of money, even better because they will have to pay more taxes"
Rajoy arrived in Colombia from Mexico where he also received the support from President Felipe Calderon and the Latin American Economic Forum.
Rajoy pointed out that Colombia was important for Spain because of its high levels of growth and its judicial stability. "Colombia is a destination that is totally attractive for trade and is a nation in complete transformation".
Santos said that Colombia lags seriously in infrastructure and needs to make a huge effort to become competitive and this demands "great business leaders" such as the Spaniards but also the support from small and medium sized endeavors.
"We need your capital, your experience, your expertise, we need to develop our bio-technology and our food sectors", said Santos. Colombia has been growing sustainedly for a few years now well above 5%, with a massive inflow of foreign capital heading to industry, mining and oil.
Rajoy said that stats show that between 1994 and 2010 Spain became the third largest investor in Colombia with Spanish companies helping to create 70.000 direct jobs and 80.000 indirect jobs. The Spanish president also promised to lobby strongly so that the EU/Colombia trade agreement can be signed and implemented in a near future.