Spain claims US will actively side "to restore a good climate for investment" in Argentina
Thursday, April 19th 2012 - 20:15 UTC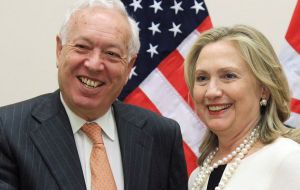 Spain will discuss a joint response with the United States to Argentina's forced nationalization of the YPF oil company, Spanish Foreign Minister Jose Manuel Garcia-Margallo said on Thursday.
Garcia-Margallo spoke ahead of a bilateral meeting with US Secretary of State Hillary Rodham Clinton, on the margins of ongoing NATO talks in Brussels. The meeting will serve to "study together what kind of actions we can take to restore a good climate for investment" in Argentina, the Spanish minister said.
Garcia-Margallo claimed that the Argentine government's decision - which will strip Spain's Repsol of its controlling stake in YPF - "can help hide its shortcomings."
"But very soon it will be shown that a policy of isolation from the world is the worst policy that you can have in the 21st century," he added.
The US initially declined to take sides in the Argentinean-Spanish dispute, but overnight, after some prodding from Madrid, it said that it viewed the expropriation of YPF "as a negative development."
The United States said on Wednesday Argentina's plan to nationalize leading energy company YPF was a "negative development" that could hurt the Latin American country's economy and investment climate.
State Department spokesman Mark Toner said the United States was very concerned about Argentina's bid to seize the company, controlled by Spanish energy group Repsol, and had raised its concerns with the highest levels of the Argentine government.
"Frankly, the more we look at this we view it as a negative development," Toner told a news briefing.
"These kinds of actions against foreign investors can ultimately have an adverse effect on the Argentine economy and could further dampen the investment climate in Argentina," he pointed out.
Spain is due to consider its next steps at a cabinet meeting on Friday.