Argentina minimizes impact of Spain's first retaliatory measures
Saturday, April 21st 2012 - 04:03 UTC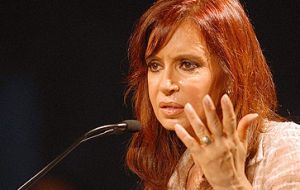 Argentine President Cristina Fernández minimized Spain's decision to reduce the bio-diesel imports as a retaliation over the expropriation of YPF and called for "calm" after assuring that Argentina "is in condition to absorb" that production in the domestic market.
"We won't question Spain's sovereign decision, no matter which one it takes. They are going to pay their businessmen a more expensive bio-diesel and I don't know how that will impact their economy. But I want to tell the Argentines to remain calm, we are in conditions of producing and absorbing that production" the Head of State continued.
Argentina produces three million tons of bio-diesel annually and "at a cheaper price than Spanish manufacturers".
During a rally in Santa Cruz on Friday, Cristina Fernández reminded that she is "granddaughter of Spaniards" and highlighted the "generosity" with which Argentina received the immigrants from that country after the civil war. "We are always going to answer with that exact generosity," she assured.
Earlier in the day in what was considered a first measure of retaliation against Argentina Spain announced the restrictions on bio-diesel imports.
"Spain's industry ministry will sign the plan today (Friday), Deputy Prime Minister Soraya Saenz de Santamaria said after the weekly cabinet meeting".
Spain has been threatening retaliation against Argentina's decision to expropriate a majority stake of oil company YPF from Spanish-owned Repsol.
Santamaria also thanked the "enormous support" Spain received from the international community and reaffirmed the Spanish government disposition to "keep looking for new measures" to put pressure on Argentina.
According to official data, Argentina is the world's main supplier of bio-diesel almost exclusively from soy oil, and last year exports reached 1.7 million tons of which 700.000 tons, equivalent to 985 million dollars were exported to Spain.
Cristina Fernandez said Argentina would not be presenting any claims before international organizations because of Spain's retaliatory decision.
"We're not going to appeal to the World Trade Organization nor are we going to complaint about the decision to block Argentine exports. We don't act that way", said the Argentine president adding that "we are hard working people and very respectful of other peoples' sovereignty".