Petrobras promises to expand and increase investments in Argentina
Saturday, April 21st 2012 - 06:44 UTC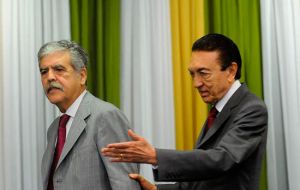 Brazil's President Dilma Rousseff following a meeting with an Argentine delegation from the energy sector ratified her country's decision to "strengthen the investment and the presence of the oil company, Petrobras, in Argentina".
President Rousseff held a half hour meeting on Friday at the Planalto Palace with the visiting Argentine delegation headed by Planning Minister Julio De Vido and which also included Ambassador Luis María Kreckler and Energy Secretary Daniel Cameron. Brazilian Mining and Energy Minister Edison Lobao, host of De Vido also attended.
The meeting with President Rousseff was the culmination of the Argentine delegation's visit to Brazil to consider the consequences of the YPF nationalization and discussions with Petrobras, the oil giant that has considerable interests in Argentina and recently had concessions suspended by a provincial government.
Authorities in Neuquen rescinded concessions on three fields citing insufficient investment, affecting Petrobras, Techint Group's Tecpetrol and Argenta Argentina. "Insufficient investment" is at the heart of the argument to nationalize YPF.
Earlier in the day President Rousseff stated that "Brazil does not interfere on other countries' domestic issues". She was referring to the Argentine government plans to seize a majority stake in YPF from Spain's Repsol.
"I was telling the Minister (Edison Lobao, Energy Minister) that Brazil does not intervene on other countries domestic issues," she said in a ceremony for diplomat graduates in Brasília. "In no manner, shape or form we will interfere, judge or express opinions about it" insisted the chief of state.
During a press conference in Brasilia, De Vido assured "YPF will have a professionalized (non political) management" and insisted that "the region is going through a historical and totally different moment so the new YPF and Petrobras should work together and do business together," he stated.
Lobao also present at the press conference announced that Brazil and Petrobras are "committed to increase their investments in Argentina's hydrocarbons' industry".
"The Argentine government has requested us to increase our investments in Petrobras Argentina and we will do so as far as we can", said Lobao publicly who nevertheless cautioned that Petrobras is limited because of its ambitious exploration and exploitation commitments in the country's new deposits.
Lobao said that Petrobras investments in Argentina for this year totalled 500 million dollars, similar to 2011, but given the 'new situation' and a specific request from Argentina, "we will make all efforts possible to increase that figure".
On his side De Vido denied point blank that the higher investments requested from Petrobras had the purpose of replacing the exit of Repsol.
"Petrobras is replacing nobody" said De Vido who argued that the greater cooperation is part of the new scenario in South America and means "for the two countries the challenge of jointly making business both in Argentina as well as in the region".
De Vido forecasted that Petrobras share of the retail fuels' market in Argentina could rapidly jump from the current 8% to 15%.