Uruguay and Brazil agree to jointly develop and expand wind power
Saturday, April 21st 2012 - 06:57 UTC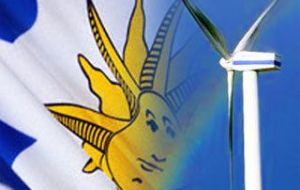 Uruguay and Brazil agreed this week to jointly set up a 100MW wind farm in Uruguayan territory demanding an investment of 200 million dollars and which should become operational by 2013.
The project will be organized as a public-private corporation involving Uruguay's power company UTE and Eletrosul, the subsidiary of Brazil's Electrobras, which belongs to the Brazilian state, reported Gonzalo Casaravilla, president of UTE.
"We have agreed with Electrobras this investment and once the project is ready and it is the right time we will be floating 30% of the company's shares", said Casaravilla. He added that part of the financing will come from Brazil's National Economic and Social Development bank, BNDES.
The aeolic park will be mounted close to the Brazilian border, some 300 kilometres east of Montevideo but Uruguayan sources said that the definitive location has not been decided, "we have several potential places and all alternatives will be considered".
The agreement was reached and announced during the business delegation visit to Brazil where Uruguayan president Jose Mujica held a couple of hours meeting with his peer Dilma Rousseff to promote trade and investments.
During the bilateral meeting which included several ministers, the two presidents agreed to continue drafting wind farm projects probably of smaller size to provide power more in line with the size of towns. Likewise the construction of a 500 kilometres power line to ensure a close connection and support between the two countries grids.
This should ensure the power transmission systems and support for a sustained provision of energy.
Uruguay's power is mainly hydro, from four dams, but very vulnerable to rainfall, and therefore has an ambitious plan for wind farms to provide 18% to 20% of the country's energy supply by 2020. .