Argentine seizure of YPF will be addressed at the June G20 meeting in Mexico
Sunday, April 22nd 2012 - 23:01 UTC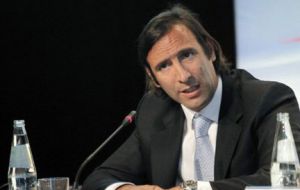 The Argentine government decision to nationalize Spain's Repsol owned YPF will be discussed in June in Los Cabos, Mexico, during the G-20 summit.
Until then, there will not be any official statements as a result of several meetings held in Washington by Economy Minister Hernán Lorenzino with high-ranking officials in the framework of the IMF-World Bank annual spring meetings.
The minister attended a dinner offered by Mexican President Felipe Calderón where he came across the US Treasury Secretary Timothy Geithner, the IMF chief Christine Lagarde, Brazilian Economy Minister Guido Mantega, Mexican José Antonio Meade, French Francoise Baroin and his Spanish counterpart Luis de Guindos, among others.
According to Lorenzino's interpretations of those exchanges and reported in the Buenos Aires press the Argentine minister believes that YPF nationalization will not be discussed during the IMF-World Bank meetings and will be out of the international agenda until June.
The second one is that Spain will be a special guest of the G-20 summit to be held in Los Cabos, Mexico, and nothing will prevent Mariano Rajoy from making a public condemnation of YPF expropriation.
The minister said, "YPF is not in the agenda, will not be debated here. It's something that will stay within the (bilateral) relations of the Argentine government and the company". He added "there is a great respect among the region's countries about each government's legitimate and sovereign actions".
"We must address topics like growth and social inclusion," he stated.
Nevertheless Lorenzino again had time to critizice the economic adjustment plan made sponsored by the IMF to break away from the world economic crisis.
"There is no data, article or report from the multilateral organizations that proves the economic adjustment policies give results" said the Argentine minister who added that "many of these plans are concentrated on recent findings and on structural reforms, particularly flexibility of jobs."
Lorenzino said that "Argentina is the best example of committing this error, in that in the 90s they applied these measures, furthering the policy, and it reached a record unemployment rate with the worst recession in history," and since 2003 "it is in a solid position of continuous growth with active policies."
With these decisions "we were able to break away from important crises in 2008 and 2009", said Lorenzino.