Independent oil company plans major expansion in Chile, Argentina and Colombia
Tuesday, April 24th 2012 - 21:52 UTC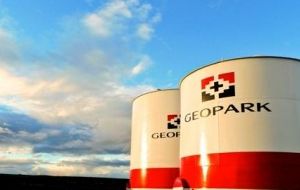 Latin American independent oil and gas explorer GeoPark Holdings Ltd is planning a major expansion of its activities in 19 licensed blocks in three countries with the purpose of significantly increasing oil and gas production in the next 18 months, according to a report released by the company.
Geo Park Holdings plan involves drilling 45 to 55 new wells in Chile, Colombia and Argentina, which should help increase 2011 oil and gas production by 80%, with investments of 240 million dollars.
"We are beginning 2012 with strong momentum, important foundations in place and exciting opportunities ahead – and expect during the year to create significant additional value for our shareholders and stakeholders", said CEO James Park.
"As the first company with operations and growth platforms in Chile, Colombia and Argentina, we are optimistic about being able to provide strong organic growth in 2012 and over the near term", he added.
GeoPark in its results for the year ended December 2011 underlines it was awarded three new high potential hydrocarbon blocks in Tierra del Fuego, Chile; Korea's LG International ("LGI") entered into GeoPark's Chile business via its acquisition of a 20% interest; and acquisition of two oil and gas exploration and production companies in Colombia, with interests in ten hydrocarbon blocks.
Last year oil production was up 27%, with an average 2,510 barrels per day (bopd) compared to 1,970 bopd in 2010, while natural gas output increased 2% to an average of 30.5 million cubic feet per day (mmcfpd) in 2011 from an average of 29.8 mmcfpd in 2010. Total oil and gas production therefore increased 9% to 7,593 barrels of oil equivalent per day (boepd) in 2011 compared to 6,947 boepd in 2010.
GeoPark's current production is approximately 12,200 boepd (with 64% oil), including contributions from the new properties in Colombia.
In 2011 the company's revenue jumped 40% to 111.6 million dollars compared to 81 million in 2010. This reflects a combination of higher production volumes and a greater share of oil.
In February 2012, GeoPark acquired Winchester Oil and Gas S.A. and La Luna Oil Company Limited S.A. ("Winchester Luna"), privately-held exploration and production companies operating in Colombia.
In March 2012, GeoPark acquired Hupecol Cuerva LLC ("Hupecol"), a privately-held company with two exploration and production blocks in Colombia. The combined Hupecol and Winchester Luna purchases (acquired for a total cash consideration of 105 million dollars, adjusted for working capital, plus certain possible contingent payments) provide GeoPark with the following in Colombia: Interests in 10 blocks (ranging from 5% to 100%), located in the Llanos, Magdalena and Catatumbo basins, covering an area of approximately 220,000 gross acres.
In March 2011, GeoPark signed a new commercial agreement with Punta Arenas Methanex Corporation (the purchaser of the Company's gas in Chile) designed to increase gas production volumes by improving the relative economics of gas exploration and development.