Argentina must take control of its natural resources, insists Cristina Fernandez
Wednesday, April 25th 2012 - 07:02 UTC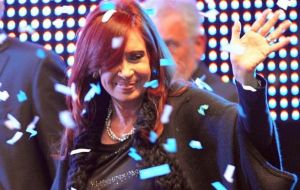 Argentine President Cristina Fernández vindicated her decision to expropriate YPF, assuring that her Government "remains convinced that all Argentines should be in control of the country's natural resources."
"We need to maintain our hydrocarbon sovereignty," she said while attending a ceremony in the province of Buenos Aires.
She also admitted she was "nervous and anxious" during the YPF announcement last week because her late husband Néstor Kirchner "could not be present during such a significant moment".
"Yes someone told me they had never seen me so nervous: it is true I had never been so nervous. But it was not because of doubts or uncertainties, quite the contrary I'm convinced this is the only possible path. I was anxious and nervous precisely because I would have loved to be next to him (Nestor Kirchner)" admitted the president.
"It's true I was anxious and nervous because the speech, because I felt I really needed him to be there".
Finally Cristina Fernandez insisted that Argentina must manage its natural resources which are strategic. "We need to defend them for all Argentines: this is the true and final objective. We're not snob environmentalists but rather because we want to conserve them for future generations".
Likewise from Buenos Aires Interior Minister Florencio Randazzo assured that the consequences of the expropriation of YPF will be "absolutely favourable for the country's development," adding that they will be seen and enjoyed "by future generations."
"We're certain that surely the consequences of this decision will be seen and enjoyed by the future generations, and will be absolutely favourable for the country's development," he said.
Randazzo's statements came in response to European Commissioner for Trade Karel de Gucht's assurances that Argentina "will suffer the consequences for a long time in its own economic development."
But Randazzo said that Argentines "will enjoy the consequences of this decision" which is directly related to this "virtuous model, which returns the management of our national resources to the state and to the people."
"There's no country in the world that has transferred the management of hydrocarbons to the private sector," and added that Argentina "is still undergoing an industrialization process and needs to be able to manage a strategic resource such as the hydrocarbons," he explained.
"Argentina made a sovereign decision. And there's a group of Spanish businessmen defending their economic interests, but this company does not belong neither to the Spanish people nor the Spanish government," he added.