Energy rich Venezuela starts nationwide power rationing program
Wednesday, April 25th 2012 - 21:42 UTC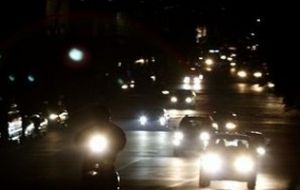 Venezuelan authorities announced on Tuesday the resumption of nationwide power rationing plans to cope with the imbalance between supply and demand in the National Electricity System (SEN).
The Ministry of Electricity reported through a press release that "the National Electricity Corporation (Corpoelec) has imposed scheduled power outages in order to stabilize the electricity system, due to the "high levels of transfers" reported by the National Centre for Electric Power Delivery (CND).
As a result, "a 770 megawatts (MW) power rationing was implemented on Monday and a further 300MW power cut took place on Tuesday to balance the system".
The Ministry said that "rotating power outages of 20 minutes each were implemented from 2 p.m. on Monday in different Venezuelan states. The scheduled power rationing implemented on Monday included a load of 770 MW"
On Tuesday, Corpoelec implemented a 300 MW rationing. According to the official report, the rationing plan was implemented virtually across the whole of Venezuela.
The power cuts have a two-fold purpose, said a source of the Energy ministry. First, they are aimed at reducing "the high levels of energy production from the Lower Caroní River hydroelectric system (called "Guayana export" by technicians), which amount to 9.300 MW".
Under the current level of power consumption, there could probably be "a nationwide blackout" if these savings are not implemented. Therefore, power energy authorities have decided to cut the load in all Venezuelan states in order to "relieve" the current system's pressure.
Secondly the rest of Venezuela is subject to power cuts in order to preserve supply in the Greater Caracas, where half the country's population lives.