High cost and scarcity of electricity threatens Chile's massive investments in copper industry
Wednesday, April 25th 2012 - 21:35 UTC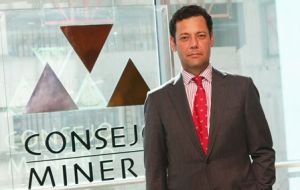 The biggest-ever pipeline of copper projects is under threat as Chile, the world's top producer, struggles to contain rising opposition to new power plants.
At least 5.000 megawatts of capacity, including a 5 billion dollars coal-fired plant proposed by Brazilian billionaire Eike Batista, are facing delays or have been shelved as companies including BHP Billiton and Anglo American Plc spend as much as 100 billion on copper and metals projects in Chile.
Chile struck by a power blackout as recently as this week, needs to boost capacity by 47% within 8 years to keep pace with consumption. Protesters from fishermen to university students oppose the plants, prompting miners to consider their own projects to help meet China's copper demand.
"Chile will have to shelve many of the country's mining investments due to the high cost and scarcity of electricity," Joaquin Villarino, president of mining lobby group Consejo Minero, said in Santiago on April 19. "Delays will jeopardize a "significant" part of the proposed mine investments".
BHP Billiton, the world's largest mining company, may solicit offers to build a power station in northern Chile, Peter Beaven, head of the Melbourne-based company's base metals unit, said April 10. Teck is in talks with energy providers to build a power station in the Atacama Desert to supply its Quebrada Blanca mine, Santiago newspaper La Tercera reported April 21.
Chile needs to add 8.000 megawatts to its 17.000-megawatt power system by 2020, according to National Energy Commission estimates. The mining industry accounts for about a fifth of the country's energy demands.
Transmission lines damaged by an 8.8-magnitude earthquake on Feb. 27, 2010 also need investment. The grid will be prone to blackouts for years to come, Chile's former Energy minister Rodrigo Alvarez said Feb. 17.
The latest blackout struck this week as supply was cut from the capital Santiago to the southern region of Los Lagos on April 23.
Power prices on Chile's central grid rose from about 100 dollars a megawatt hour at the start of 2010 to more than 150 a megawatt hour at the end of 2011, according to the Energy Ministry.
"It is a challenge that the government is well aware of the need to ensure that economic growth is not constrained by a lack of power," John MacKenzie, head of Anglo's copper business, said in an April 10 interview in the Chilean capital.
Alvarez resigned after a conflict related to fuel subsidies in the southern region of Aysen. President Sebastian Piñera then appointed Jorge Bunster on April 3 as his fifth energy minister in two years.