Chavez is back in Caracas, "with any adverse reaction to the treatment"
Thursday, April 26th 2012 - 21:00 UTC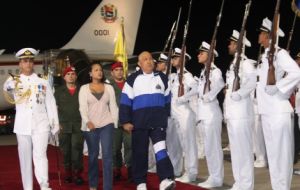 Venezuelan President Hugo Chávez returned home after 11 days of cancer treatment in Cuba as the state television showed images of the Head of State chatting with his vice president and other aides after arriving at Caracas' international airport early Thursday.
"So far, fortunately there hasn't been any adverse reaction to the treatment," Chávez said. "All the exams that have been carried out have shown positive results of physical recovery."
Chávez travelled to Cuba on April 14 for radiation therapy treatment. He added that he expects to return to Havana soon to undergo more treatments.
The Venezuelan leader began radiation treatment in Cuba in late March after an operation in February that he says removed a second tumour from his pelvic region. The first tumour was taken out in an operation last June.
Chávez said he met his friend and mentor Fidel Castro on Wednesday afternoon and later saw his brother President Raúl Castro at the airport in Havana.
The Venezuelan has often expressed gratitude to the Castro brothers for the care he has received in Cuba since last June, when he said an initial surgery removed a tumour the size of a baseball.
Chávez has kept secret some details of his illness, including the type of cancer and the precise location of the tumours.
Earlier in April, Chavez spoke at a Mass in his home state of Barinas, tearing up at times as he discussed his struggle with illness.
"Christ...give me life, because I still have things to do for the people and this country. Do not take me yet," he said.
Chavez described cancer as "a true threat that marks the end of the path for many people. The end of the physical path, that's the truth".
But he said he was recovering, adding that he had "much faith, much hope, much willpower to defeat this threat, as many people have, with the help of God and medical science."
Chavez has led Venezuela since 1999 and has pledged to run for re-election in October.