US promises advanced military technology if Brazil buys Boeing F/A18 fighters
Thursday, April 26th 2012 - 05:51 UTC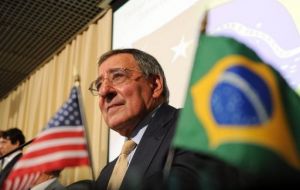 Brazil will get US advanced technology transfers if it buys Boeing's F/A-18 Super Hornet fighter jet to upgrade its air force, visiting US Defence Secretary Leon Panetta said on Wednesday.
The F/A-18 Super Hornet is competing against the Rafale fighter, made by French firm Dassault Aviation, and Swedish manufacturer Saab's Gripen for Brazil's contract for 36 next-generation fighter jets valued at between 4 billion and 7 billion dollars.
Brazil the world's sixth largest economy has a policy of insisting on technology transfer in all its defence agreements.
In a clear sign of Washington's desire to win the lucrative contract, Panetta said: "This offer, which has the strong support of the US Congress, contains an unprecedented advanced technology sharing that is reserved for only our closest allies and partners."
"This offer is about much more than providing Brazil with the best fighter available," he added in an address to a military academy. "With the Super Hornet, Brazil's defence and aviation industries would be able to transform their partnerships with US companies, and they would have the best opportunity to plug into worldwide markets."
On its first visit to Brazil since he was appointed in June last year, Panetta held talks with his Brazilian counterpart Celso Amorim in Brasilia on Tuesday.
Amorim made clear after meeting Panetta that Brasilia's main interest was securing technology transfer from the new alliance proposed by Washington.
In addition to technology transfers, Brasilia also wants some of the jet fighters to be assembled in this country, which according to analysts might favour the Rafale.
In a related development, France's Rafale International consortium signed three agreements with southern Brazilian firms to broaden its technological cooperation if Brasilia picks the Rafale, Jean-Marc Merialdo, head of Dassault's Brazilian unit, said.
Since late 2010, the consortium has already organized four seminars in several Brazilian cities to widen its range of partners should the Rafale be selected for Brazil's air force upgrade.
France is offering full technology transfers in its bid to win the contract.
Panetta said Washington welcomed Brazil's rise as a global power. "This is a relationship between two global powers, and we welcome Brazil's growing strength. We support Brazil as a global leader and seek closer defence cooperation".
"We won't agree on every matter -- no two countries, not even the closest allies, ever do. But I do believe that our common interests are so great, and the possibilities that come from our cooperation are so tangible, that we must seize this opportunity to build a stronger defence partnership for the future," Panetta said here.
The Brazilian-US dialogue is also meant to resolve other issues such as the US decision in 2008 to reactivate its Fourth Fleet in the South Atlantic, a strategic and resource-rich area where regional countries do not want any external military presence.