Argentine imports' policy again accused of protectionism at a WTO committee
Saturday, April 28th 2012 - 06:05 UTC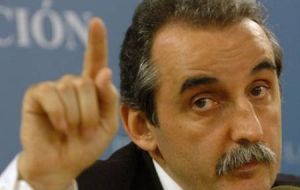 Argentina was accused once more of "protectionism" at the meeting of the Imports License Committee of the World Trade Organization (WTO) in what can lead to a trade dispute with forty countries.
The claim is focused in the non-automatic licenses and other measures the Argentine Government applies to the imports.
Diplomatic sources said that several countries affirmed that their exports to Argentina were reduced due to this measure, to which the Argentine envoy answered with statistics that demonstrate the opposite and that the purchases to most of the countries that presented the claims are increasing.
The non automatic import licences are the legal procedure to export to Argentina and according to WTO rules the system must be transparent, simple and reliable, including facilitating a quick automatic concession in some specific cases.
But this is not what is happening with Argentina according to 27 countries from the EU, Australia, Turkey, Norway, Thailand, US, New Zealand, Costa Rica, Colombia, Peru, Taiwan, Japan, South Korea and Canada.
These countries allege their exporters and trade agents report that exports to Argentina have fallen or are delayed because of the slow process and requirements to have access to the non automatic import licences, which was described as "clearly protectionist".
Argentina's imports policy has already triggered a strong joint declaration from forty countries last March 30 during the meeting of the Council for the trade of goods, in the framework of the WTO.
The claimants argue that the licences system is part of an official policy of "trade balance" and imposes on importers the obligation of exporting for a similar value or investing in local production.
They also recalled that Argentina is a member of G20, which openly opposes protectionism and called on the Argentine authorities to explain on paper and in detail why they believe the system implemented complies with its WTO obligations.
However Argentina said it will not repeat explanations given at the recent Goods trade council, but gave a detail of how the imports licences system works and different steps for its request. Argentina also rejected the existence of binding links between the WTO and G20.