"Brazil ready to live a natural gas golden era" with self sufficiency in five years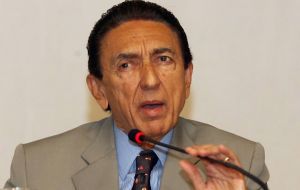 Brazil which currently imports 35% of the natural gas it consumes from Bolivia has found sufficient reserves to ensure self-sufficiency in the coming five years announced Mines and Energy minister Edison Lobao.
The report from the National Petroleum Agency, ANP, says Brazil that has natural gas reserves on land which can increase supply by 360% in the coming decade. This in practical terms means the current output of 65 million of cubic metres per day could easily reach 300 million cubic metres y 2025/2027.
"Brazil is ready to live the natural gas golden era", said minister Lobao in an interview with the Rio do Janerio media when asked about natural gas self sufficiency.
The ANP report has identified 28 sedimentary basins on land with natural gas potential, among which Paranaiba to the northeast of the country with a proven reserve of 15 billion cubic feet and of which 15 million cubic metres per day can be extracted, equivalent to half of which the country currently imports from Bolivia.
According to the report a majority of the basins with identified potential have yet to be explored, and will soon be auctioned under a concession's system.
So far most of the natural gas extracted in Brazil comes from the offshore wells in deep water areas where oil is pumped in the South Atlantic. Brazil has a daily consumption of 86 million cubic metres, of which 30 million are imported from Bolivia.
According to ANP since it is a cheaper fuel and far less contaminating, natural gas consumption could soar to 200 million cubic metres per day by 2020 when Brazil will already be producing that volume.