India to complain Argentine trade restrictions, but 'bilaterally'
Monday, April 30th 2012 - 07:12 UTC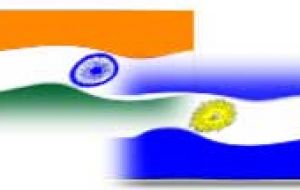 India has decided to raise its concerns over Argentina's recent import restrictions bilaterally, instead of joining the US and European Union who have taken the country to the World Trade Organization, reports the Economic Times from India.
New Delhi has asked the Indian embassy in Buenos Aires to arrange a meeting soon with Argentine authorities. This follows discussions between Indian senior commerce department officials and Argentina's ambassador in Delhi.
"The import restrictions, imposed in the form of import licenses and extensive paper work, is so onerous that it has become almost impossible for exporters to send their shipments to the country," an Indian commerce department official told ET. "We cannot leave it on Argentina to settle the problem but have to step in and handle the matter urgently."
The official, however, said India has refused to be part of a group of nations that strongly criticised Argentina's import restrictions at the WTO last month. The group, which includes the US, the EU, Japan and 10 other countries, has accused Argentina of tying up its imports in red tape. No member of the so-called BRICS (Brazil, Russia, India, China and South Africa) has joined the EU-US position.
"We did not want to embarrass the country by joining hands with main players of the developed world. But that does not mean that we are going to let the matter rest as it has huge implications for future exports" said the Indian official.
Argentina applied the import restrictions in February in response to a sharp dip in its exportable surplus last year.
The country is an important destination for Indian exporters who are looking at ways to diversify beyond the traditional markets of the EU and the US, especially in the backdrop of the uncertainty gripping the developed world.
India's merchandise exports to Argentina were 400 million dollars in 2010-11. Although it was just 0.16% of India's total exports in that year, it posted a jump of 47.5%.
But exporters are apprehensive of a dip in figures now because of the new import norms. They are not able to ship consignments for which orders were placed earlier by Argentine importers, who are not able to obtain import licences under the new rules.
The Indian government, at present, is not looking at the WTO path at all to sort out the issue, the official quoted earlier said. "We are hopeful that we will get results through our bilateral consultations. If we don't, then we will plan our future course of action".