Ultra-Kirchnerites launch debate on President Cristina Fernandez re-re-election
Monday, April 30th 2012 - 07:19 UTC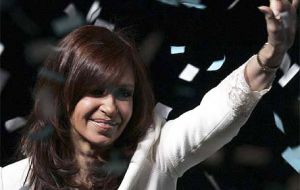 A movement has resurfaced in Argentina with the idea of promoting the perpetuation of President Cristina Fernandez in power through a constitutional reform, an initiative launched before but which at that time was downplayed by the re-elected president.
Ultra-Kirchnerite lawmaker Diana Conti, who back in 2010 shortly advocated in favour of the initiative, once again reiterated her support for a constitutional reform, assuring that she wishes the Head of State decided to "remain at the helm" of the country.
"It would make me so happy to see the President give herself a chance to remain at the helm of the country," she said while speaking as a guest on a Buenos Aires radio show on Sunday. "But in order for that to happen, she has to want it and that is not happening," Conti lamented.
The lawmaker addressed recent rumours that suggest the possibility of changing the presidential system to a parliamentary one, and said she is against it because "it is not the most adequate system for Argentina."
"I don't think it is appropriate for Argentine tradition. Our roots are presidential, even when political parties are pauperized; we are a people that like to follow a strong leader. In a federal vast country as we are, a parliamentary system does not guarantee greater popular participation, rather the contrary: it would be a bureaucratic government which works on the basis of cupola agreements", said lawmaker Conti who chairs the Lower House committee on constitutional affairs.
She added that even when a constitutional review in Argentina sounds as a bad word, "I will continue pushing since Cristina has emerged as an undisputed leader above the political establishment".
She said, however, that the current Constitution needs to be amended because it is based on a "liberal-conservative matrix."
"We need to change the focus of the current constitution, which is based on a liberal-conservative matrix and the 1994 reform precisely reaffirmed that orientation", said Conti.
On Saturday, Kirchnerite lawmaker Jorge Landau had made similar statements regarding a constitutional reform, although he stated that doing so just to allow a president to run for re-re-election "wouldn't make any sense."
Landau said he was in favour of "anything that questions the status quo, because that always makes sense. Everything has to be put into question and we must then determine whether an amendment is justified or not."