Peace Nobel laureates deliver letter to PM Cameron office calling for Falklands' dispute dialogue
Wednesday, May 2nd 2012 - 05:50 UTC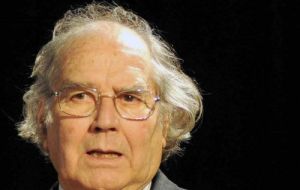 Argentine Peace Nobel prize winner Adolfo Pérez Esquivel delivered in London a letter of seven Peace Nobel winners to Prime Minister David Cameron urging UK along with Argentina to reach a peaceful solution over the sovereignty of the disputed Falklands/Malvinas Islands.
The letter calls on PM Cameron to comply with the several UN General Assemblies and Decolonization Committee resolutions, so that together with Argentina, and given the existence of a dispute, a solution to the long standing conflict can be found.
The letter was signed by Mairead Corrigan Maguire (Northern Ireland), Rigoberta Menchú Tum (Guatemala), Desmond Tutu (South Africa), Jody Williams (US), Shirin Ebadi (Iran), Leymah Gbowee (Liberia) and Adolfo Pérez Esquivel (Argentina).
In what now seems clearly a concerted action, the Nobel Prize winners' letter to PM Cameron was delivered before the incident involving Argentine ambassador Alicia Castro who during a public ceremony asked Foreign Secretary William Hague if the UK was ready for dialogue on the Falklands' future.
Since Perez Esquivel was not received by PM Cameron, speaking to the London media he expressed concern with the official "no dialogue" attitude and pointed out that the letter was not an initiative against the British government, but rather a campaign to throw down the walls of intolerance.
In 1982 when the South Atlantic conflict broke out between Argentina and the UK, Perez Esquivel along with Corrigan Maguire launched an international campaign to stop the war.
When the message was made public, the Falkland Islands elected government reminded the Nobel laureates that Falklanders as a people have the right to self-determination and that after 200 years of links with Britain, "we would consider any control (of the Islands) by Argentina as alien, and therefore a denial of our rights as a people".
A passage of the letter recalls that the laureates omitted to mention "Argentina's far from peaceful attempt to force a solution in April 1982, when they illegally invaded our home, resulting in the deaths of nearly 1000 people".
Likewise UN Resolution 2065 (XX) of 16 December 1965, which calls on Argentina and Britain to seek a peaceful solution to the Falklands issue is within the framework of UN Resolution 1514 (XV) of 14 December 1960.
And section 2 of the 1960 Resolution is plain clear: "all peoples have the right to self-¬-determination; by virtue of that right they freely determine their political status and freely pursue their economic, social and cultural development".
The open letter also underlines that "the Argentine Constitution as amended in 1994 allows for nothing but full Argentine sovereignty over our home. As a result, there can be no negotiation on this issue, as Argentina already has a predetermined outcome in mind -¬- this is no basis for discussion".
The letter ends strongly encouraging the laureates "to come and visit our home, and to see for yourself our community and our heritage born of nine generations before supporting negotiations that do not take account of our right of self-¬-determination, thus helping Argentina to justify its politically and economically aggressive actions against our home and people2
"We would be happy to host you at a time of your convenience and arrange a program to enable you to meet our people and explore our Islands" The letter and invitation remains unanswered.