Peru could find itself snared in the Falklands/Malvinas dispute
Wednesday, May 2nd 2012 - 15:06 UTC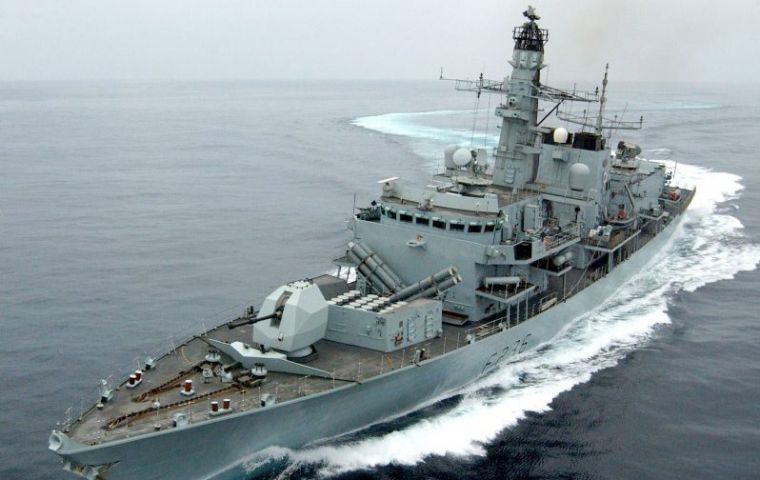 By W. Alex Sanchez, Research Fellow at the Council on Hemispheric Affairs - Thirty years after a bloody war between the United Kingdom and Argentina, the longstanding territorial conflict over the Falklands/Malvinas Islands continues to simmer.
In recent months Buenos Aires has attempted to attract international support for its claim to the Islands, particularly from fellow South American countries. Several regional states have stated their perfunctory support for Argentina, in some cases going so far as to accept a blockade on the Falklands, refusing vessels flying the Islands' flag to dock in their ports. One state that is in a particularly troubling position regarding which side to back is the Andean nation of Peru, as exemplified in a recent incident regarding the British frigate HMS Montrose.
Peru and the UK: a Troubled Historical Relationship
Though geographically distant, Peru and the United Kingdom often have had a troubled relationship, due to the Falklands sovereignty dispute, which is part of even greater geopolitical issues troubling South America. Though geographically distant, Peru and the United Kingdom's relationship is characterized by a rocky past. Current tensions are rooted not only in the Falklands sovereignty dispute, but also in greater geopolitical issues to be found in South America.
In the 19th century, Peru, along with Bolivia as its ally, fought a bloody war against Chile, which became known as the War of the Pacific (1879-1883). The origins of this conflict centered on Chile's desire for control over the mineral-rich coastal regions of Bolivia (Antofagasta) and Peru (Arica, Tarapaca and Tacna). Towards the end of the conflict with Peru, the Chilean army was able to occupy and then ransack Lima, thanks to Chile's striking naval advantage. Chile eventually emerged victorious and, as part of the spoils of war, it gained valuable territory from Peru and Bolivia, turning the latter into a landlocked country. The Chilean government and its military have been able to profit from the minerals it gained from to the war, particularly from copper deposits.
What is not so well known is the role of the British Empire during the War of the Pacific, as London was an active supporter of Santiago. The British provided Chile with both warships and experienced naval officers, which proved to be a defining factor in the conflict. Peru has never forgotten the British military's aid to Santiago, as the War of the Pacific became a critical milestone in Peruvian history, serving as an inspiration and source of nationalism that swept the country and an abiding distrust towards Chile.
Far from being ancient history, this 19th century war would have repercussions in the 20th century, when the military junta in Argentina, facing a crippling economy, decided to launch an ambitious military offensive to gain control of the Malvinas and to distract the Argentine population from problems in the country. During the war, the Peruvian government played a dual role. On the one hand, then-President Fernando Belaunde Terry attempted to serve as a mediator between Buenos Aires and London in order to bring the conflict to an end. Meanwhile, and more critically, Peru provided Argentina with Exocet missiles and Mirage warplanes that were later used against UK forces. In fact, it is believed that a Peruvian Exocet missile was used by Argentina to sink the HMS Sheffield.
It is worth noting that Chile, then ruled by General Augusto Pinochet, provided the UK with critical intelligence data that was used against Argentina's military. Santiago and Buenos Aires have had a historically tense relationship, not only because of Santiago's role during the 1982 war, but because of a 1978 incident in which the two countries came close to combat as a result of a border dispute over the Beagle channel that was avoided thanks to Papal intervention.
Most recently, an important incident occurred in 1995 which shook Lima's position on the Falklands. On that occasion, Ecuador and Peru waged a non-declared military conflict known as the Cenepa War which lasted several weeks over a region that has been contested for decades, serving as the casus belli for two brief wars in 1941 and 1981. What makes this incident germane to the Falklands dispute was that Argentina, under President Carlos Menem, sold weapons to Ecuador, which was used against Peruvian troops. For Peru, this was seen as a stab in the back from an ally to whom Lima had previously provided vital military equipment and assistance during the 1982 war. Furthermore, Argentina is, along with the U.S., Brazil and Chile, one of the four guarantors in charge of maintaining the peace between Ecuador and Peru since the 1941 war. In view of Buenos Aires' backing of Quito during the Cenepa War, Lima, particularly its military circle, may see little reason to continue supporting Buenos Aires regarding the Falklands.
After a 35-month trial, Menem and 17 other members of his government were ultimately found innocent of illegally selling guns to Ecuador and other countries. In an interview with COHA a retired Peruvian colonel, who wanted to remain anonymous, stated that "it's a shame no one will be punished for this crime, considering the historically close relations between Lima and Buenos Aires." In addition, Dr. Christian Maisch, an associate dean at the American University argued that "it's important to stress that the illegal weapon sales were carried out by opportunistic government officials during the Menem government. This was apparently a traición oportunista [opportunistic betrayal] by some corrupt officials and not necessarily a policy formally approved by the Argentine government or supported by the will of the Argentine people." The diplomatic historian went on to highlight the strong ties between Peru and Argentina, dating back to the 19th century independence movements, particularly the one led by Argentine General José de San Martín, which facilitated Peru's independence from the Spanish Empire.
The 2012 Montrose Incident
The year 2012 marks the 30th anniversary of the Falklands/Malvinas war and unanticipated tensions between Argentina and the United Kingdom have reignited. For example, Buenos Aires officials have declared that London is militarizing the South Atlantic. This aggressive statement was in response to the deployment of a British warship to the Islands, as well as the deployment of Prince William, a RAF search and rescue pilot, to the archipelago. London stated that such military deployments are routine, but, in all fairness, a critical development regarding this particular move was that London had originally dispatched a frigate, the HMS Montrose, to the South Atlantic. The Montrose's posting in the region was abbreviated, however, when it was decided that it should be replaced by another vessel, the destroyer HMS Dauntless, considered to be one of the most modern warships in the world. The conservative Daily Mail stated that "naval chiefs admit sending the warship [the Dauntless] to the region will deliver a strong signal that Britain has no intention of relinquishing the Falklands."
Peru fits in this latest round of tensions between Buenos Aires and London, as the Ollanta Humala government has also declared its support for Argentina's claim to the Islands. The problem arose when Lima also authorized the HMS Montrose to make a port of call in Callao, the major Peruvian port next to Lima. From what is understood, the Peruvian Congress originally declared that the Montrose could dock in Callao but, shortly afterwards the Peruvian executive reversed this decision and said the British warship could not do so. These somewhat confusing instructions proved to be an embarrassment for the Ollanta government, as the international media argued that Peru was breaking rank from South America's strong support of Argentina. Peruvian opposition parties stated that Peru was having a "contradictory" and even subservient relationship with Argentina.
In the end, the Peruvian government maintained its solidarity with Argentina, while the British government called Lima "unfriendly" for canceling the Montrose's visit. In an interview with COHA, a British diplomat, who asked to remain anonymous, explained that "we think that the Montrose visit would have added another element of co-operation to the bilateral relationship. And that is very much our ambition." Meanwhile, a Peruvian Congresswoman, Lourdes Alcorta, stated that "acá metieron la pata totalmente. Una cosa es la actitud solidaria que pueda haber con Argentina por el tema de las Malvinas, pero no se puede maltratar otros países" ("everyone here screwed up. One thing is that we should have a solidarity act with Argentina over the Malvinas, but we cannot be rude to other countries").
After the incident, the Peruvian Defense Minister, Alberto Otarola, declared that "in the [Defense Ministry] we were in favor of accepting the frigate's visit." The Peruvian Defense Minister also stated that it is the Peruvian Congress and Ministry of Foreign Affairs that formulate Peruvian foreign policy, including which foreign ships can dock in Peruvian ports. While true, this can also be interpreted as the Peruvian defense ministry and military indirectly indicating that they wished to have stronger defense links with the British military, but that the civilian government was ultimately responsible for the failure of the Montrose to obtain the requisite docking permission in some Peruvian facility. Ultimately, the Montrose sailed on to Colombia and Panama and the British warship was allowed to dock in those countries. The aforementioned British diplomat explained to COHA:
"I am not aware that either of those governments came under Argentine pressure or were challenged about compromising regional solidarity. They took the view, as do most in the region, that it is perfectly possible to have a full and productive bilateral relationship with the UK whilst maintaining a difference of view on the Falklands issue".
Hence, it is debatable why Lima was so keen to reject the HMS Montrose to the point of becoming a regional embarrassment, when two other Latin American nations welcomed the British warship within their territorial waters.
London – Lima Relations Today
While perhaps not London's major interest in Latin America, it is important to highlight that Peru and the United Kingdom currently have generally good relations, particularly regarding trade. The UK is the second biggest foreign investor in Peru; UK imports from Peru rose by 14% last year, and overall bilateral trade went up 17%. According to the online daily, The Peruvian Times, British businesses have more than US$4.45 billion invested in Peru.
The aforementioned British diplomat explained to COHA that "we had an excellent bilateral trade event in London only last month, at which our Minister for the Americas, Jeremy Browne, gave a keynote address. And our Financial Secretary met with Peru's Economy and Finance Minister." After the Montrose incident, there were concerns that Lima-London relations would suffer, but Minister Browne and Peru's Minister for Foreign Affairs, Rafael Roncagliolo, spoke on the phone and stated that both governments are committed to maintaining and strengthening relations. In another attempt to generate closer relations, according to the aforementioned The Peruvian Times, a group of high-profile Peruvian officials visited London this month as part of a business delegation. The delegation included the Peruvian Minister of Finance, Luis Miguel Castilla, Central Bank president Julio Velarde, and Roberto Hoyle, president of the Lima Stock Exchange, as well as the British Ambassador to Peru, James Darius.
The tensions surrounding the Falklands/Malvinas occurred at a time when London was reorganizing its foreign policy to reach out to areas like Latin America, the Caribbean and Africa. Because of its economic boom in recent years Peru is a high-profile target for British diplomatic and investments opportunities. On the other hand, at the time of the Montrose incident, Alfredo Ferrero, a former Peruvian Minister for External Trade and Tourism, criticized Argentina's economic model. He stated that the Argentine government is too protectionist and bilateral trade between Lima and Buenos Aires is not the best. He also said that "tenemos problemas para venderles nuestros productos" ("we have problems selling them our products").
Unraveling Geopolitics in South America
The Falklands have demonstrated just how complex South American politics are, and the recently concluded Summit of the Americas held in Cartagena, Colombia, is a perfect example. In a not-so-surprising development, Argentine President Cristina Fernández de Kirchner stormed out of the Summit after the attending heads of state could not agree on a declaration regarding the Falklands/Malvinas dispute (and the controversy over Cuba's attendance). To be fair, the Summit had little chance of accomplishing any kind of groundbreaking resolution, as there were at least three divisive topics on the table: the Falklands/Malvinas, Cuba, and the future of the hemispheric war on drugs, including the debate on possibility ending drug prohibition in favor of decriminalization.
Members of Union of South American Nations (Union de Naciones Suramericanas – UNASUR), generally have declared themselves in favor of Argentina's position, but this does not exactly mean that a blank check has been drawn in support for Buenos Aires. The Uruguayan government, for example, supports Argentina, but Montevideo has not prevented its citizens from carrying out business with the Islanders. For example, in early February 2012, a group of Uruguayan businessmen traveled to the Islands, without Montevideo preventing them from doing so.
In any case, Argentina is relying on a statement by UNASUR for regional unity. In fact, it was arguably UNASUR's support of Buenos Aires that provided the additional pressure on Lima to deny the Montrose entry. Then again, diplomatic pressure was not enough to move Colombia and Panama (not a UNASUR member) to deny the British frigate its decision to make a port call.
A final factor regarding Lima's decision to bow to Argentina's pressure may have to do with a maritime border dispute Lima has with Santiago. The Chilean government lays claim to a sizable amount of Peruvian territorial waters, and there are concerns over what would happen if the dispute escalates. For the time being, the dispute is at a stalemate as both countries have turned to the International Court of Justice (ICJ) in The Hague, which is set to issue a ruling by 2013. Peru may be trying to gain international support for its case; hence Lima is supporting Argentina over the Falklands/Malvinas. Dr. Maisch argues that "Lima should maintain its current and historical position regarding the Falkland/Malvinas dispute because it is the right thing to do, both legally and politically." He does not believe, however, that "Peruvian support for Argentina will necessarily translate in Argentine support for Peru in the latter's dispute with Chile." He thinks:
"Switching support from Argentina to the United Kingdom on the Falkland/Malvinas dispute would make Peru look inconsistent and would not likely result in any diplomatic benefits for Lima in its maritime dispute with Santiago. Chile and the United Kingdom have had strong historical ties going back over a century, and even if Lima was to change its position on the Falkland/Malvinas dispute, there is little chance that London would support Peru in its maritime dispute with Chile. Moreover, that maritime dispute has already moved from the field of diplomatic negotiations (where allies can sometimes play a helpful role) to the realm of judicial adjudication before the ICJ, where cases should be decided on their legal merits.
Should Peru Have a Bigger Role in the Falklands/Malvinas?
After the Montrose incident, President Ollanta Humala stated to the Peruvian media that "no somos satelite, ni colonia de nadie, no aceptamos imposiciones de nadie" ("we are not a satellite, no one's colony, we do not accept impositions from anyone"). While such statements are bold, it seems likely that Lima did not bend to pressure from London, but from Buenos Aires and UNASUR. On the other hand, Colombia and Panama agreed to host the HMS Montrose and it did not end in Argentina breaking its diplomatic relations with either country. Hence, it could be argued that Peru could have withstood the diplomatic heat from Buenos Aires and UNASUR if it had gone through and accepted a visit from the British warship.
Should Peru become more engaged in the Malvinas/Falkland dispute? An argument can be made that the Peruvian diplomatic corps could try promoting a confidence building mechanism such as multinational naval exercises in the South Atlantic combining British naval forces (like the Dauntless and Montrose) with those from Argentina and other regional states (such as the U.S. Brazil, Uruguay and Peru). Considering that the Argentine government has declared that London is militarizing the South Atlantic, multinational exercises would ideally serve to demonstrate that the British navy is not a threat to Argentine national security. Finally, such multinational military exercises would be good for the Peruvian navy, as it would have the opportunity to carry out highly desirable naval exercises with the more developed and better-equipped British navy.
Unfortunately, such an idea, while theoretically viable, is unlikely to happen. London has stated that it is willing to discuss any kind of initiative regarding the disputed Islands, including regional naval exercises, aside from sovereignty. On the other hand, if Argentina participates in such exercises, it could be perceived as an indirect validation of the presence of the British navy in the area, which would amount to political suicide for any administration in the Casa Rosada.
As for Peru's role, it would probably be best for Lima to maintain its neutrality regarding the dispute of the Islands instead of trying to become an active participant in mediation attempts between Buenos Aires and London, as this could easily backfire. With that said, while it makes sense for the Peruvian government to maintain its historical pro-Argentina stance for the sake of regional unity, Lima should continue strengthening financial and defense relations with London, by promoting more investment and accepting a routine port of call by a warship from a friendly foreign government.
Finally, while Peru can certainly carry out naval exercises with other states that possess modern navies (like the U.S. or other European countries) it is certainly in Lima's (and its military's) best interest not to restrict itself from gaining the valuable military expertise it could gain from the British navy, simply to maintain diplomatic unity towards Argentina and its protracted territorial dispute. The retired Peruvian army officer concluded saying that "it is in Peru's national interest to maintain solidarity with friendly nations, but this policy should not mean missing the possibility to strengthen defense relations with other friendly nations." In other words, Lima's support for Buenos Aires on the Malvinas/Falklands and stronger defense relations with the British navy should not be seen as mutually exclusive objectives.